The Bold and the Beautiful Spoilers Friday, November 30: Dr. Reese Buckingham Arrives, Zoe's Distressed – Hope's Risky Choice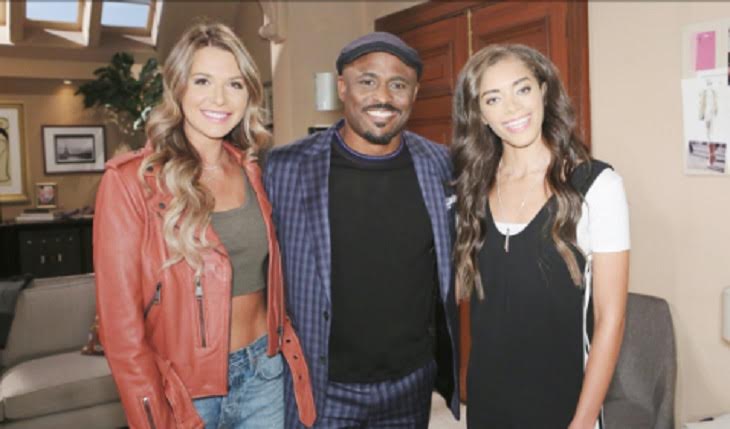 "The Bold and the Beautiful" spoilers for Friday, November 30, tease that a new face will arrive in Los Angeles. Dr. Reese Buckingham (Wayne Brady) will show up out of the blue and catch Zoe (Kiara Barnes) by surprise. Reese will eventually inform his daughter that he's making the move from London. He'll hope they can spend more time together and get their fractured relationship back on track.
Reese will turn on the charm and impress just about everyone he meets. He'll make some fast friends around Forrester Creations. Dr. Buckingham is sophisticated, but he's got a fun side as well. His big personality will definitely draw other characters closer, but he'll only drive Zoe further away.
Sadly, Zoe's the one person Reese really wants to be near right now. He'll have a hard time reconnecting with her, but he'll be partly to blame for that. "The Bold and the Beautiful" spoilers say Reese will object to Zoe's career path. He won't think this whole lingerie modeling thing is the right way to go.
Taylor accuses Brooke of bullying Steffy and promises to not let history repeat itself with Steffy and Hope. WATCH FULL EPISODE: https://t.co/1iScjl0mjs #BoldandBeautiful pic.twitter.com/TMj6fCJ7mf

— Bold & The Beautiful (@BandB_CBS) November 29, 2018
Zoe will stand her ground and let her father know she can do whatever she wants. She doesn't need his approval to follow her dreams. B&B fans can expect plenty of tough moments for these two. The coming weeks will bring some difficult hurdles, but they'll work hard to get past them.
In the meantime, Taylor (Hunter Tylo) will leave Liam (Scott Clifton) and Steffy (Jacqueline MacInnes Wood) concerned again. She'll tell them all about how she chewed Brooke (Katherine Kelly Lang) out. Taylor will admit Hope (Annika Noelle) got involved again, too. As her rage grows, so will Steffy and Liam's worries. They'll do their best to settle Taylor down, but that'll be an impossible task.
Elsewhere, Hope will decide she has to do something drastic. Liam told Hope that Taylor shot Bill (Don Diamont), but it was only so she could keep her guard up. Now Hope will make a similar choice regarding Brooke. Since her mom could become a target, Hope will choose to fill her in on Taylor's shocking actions.
"The Bold and the Beautiful" spoilers say Hope's revelation will cause another round of chaos. We'll give you updates as other B&B news and rumors emerge. Stay tuned to the CBS soap and don't forget to check Celebrating the Soaps often for the latest "Bold and the Beautiful" spoilers, rumors, updates and news.
Want up-to-the-minute soaps news, spoilers, and gossip on your social feeds? Just hit 'Like' on our Facebook page and 'Follow' on our Twitter account.