The Bold And The Beautiful Spoilers: Li Goes Berserk Over Bill & Poppy's Hot Hookup?
The Bold and the Beautiful (B&B) spoilers tease that Li Finnegan (Naomi Matsuda) showed her angry side when she spotted her niece Luna Nozawa (Lisa Yamada) at Forrester Creations. She went scorched earth on the tearful intern, but she's about to get another shock when her sister Poppy Nozawa (Romy Park) arrives in LA.
Li will go nuclear since she blames her sister for ruining her life with her wanton ways. Could it get any worse for Li? Yes it could, here's how!
The Bold And The Beautiful Spoilers – Li Finnegan Goes Scorched Earth
Poppy is coming to LA, no doubt to beseech her daughter to get the heck out of town before Li sinks her teeth and claws into them. She's already warned her daughter over the phone, but since Luna is staying put, Poppy has to take matters into her own hands.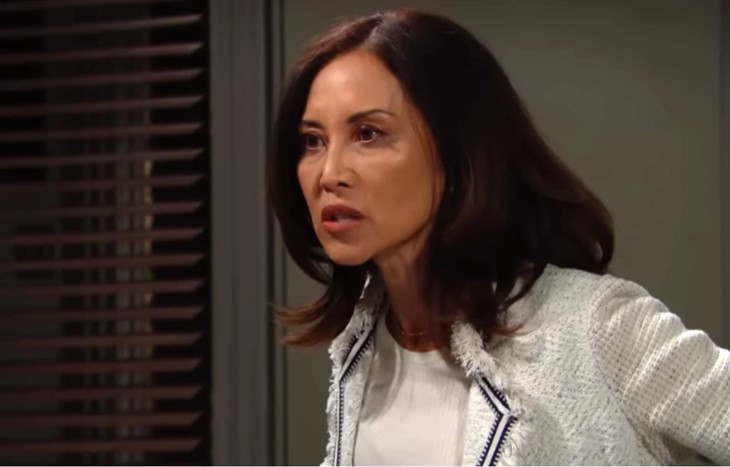 B&B spoilers – Li Finnegan's Anger Out of Control
Poppy may have allies in John "Finn" Finnegan (Tanner Novlan), Steffy Forrester (Jacqueline MacInnes Wood), and RJ Forrester (Joshua Hoffman), but that doesn't mean that Li will back down.
Poppy could further stir the pot by becoming involved with one of the show's eligible bachelors, namely Dollar Bill Spencer (Don Diamont).
Bill rescued Li after Sheila Carter (Kimberlin Brown) terrorized her, and many fans wanted to see a romance between the two. Maybe Li was interested in Bill, too?
If Poppy became involved with someone Li cherishes, that would drive her bonkers and set the stage for some explosive action.
The Bold And The Beautiful Spoilers – Poppy Nozawa's Arrival Drives Li Finnegan Berserk?
Bill could take an interest in Poppy because she's Li's sister. Plus, how long has it been since he had some arm candy—too long!
Then again, knowing how close Bill and Li are, Poppy might ask him to try and get Li to back off her and Luna. And, if this friendship turns romantic, Li would spend her days and nights fighting not just with Sheila, but with Poppy as well.
Li is livid with her sister because she had an affair with Li's boss and she subsequently was transferred to another hospital. That is reason enough to be angry, but some fans believe Poppy also had an affair with Li's ex-husband Jack Finnegan (Ted King), with Luna being the result.
Either way, there is a storm brewing in LA. Tell us B&B fans, do you want to see newbie Poppy hit it off with Bill, is time for the Dolla to have romance back in his life?
Be sure to catch up on everything happening with B&B right now. Come back here often for The Bold and the Beautiful spoilers, news, and updates.