The Bold and the Beautiful Spoilers Monday, March 4: Flo Eavesdrops on Hope, Guilt Hits Hard – Worried Liam Seeks Wyatt's Help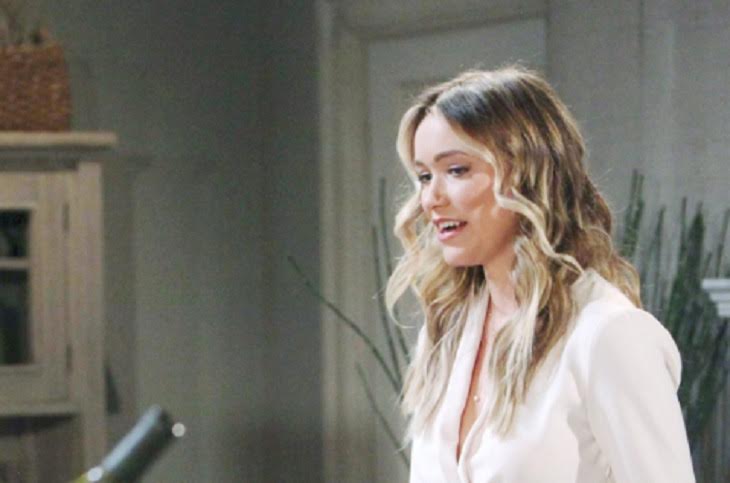 "The Bold and the Beautiful" spoilers for Monday, March 4, tease that Liam Spencer (Scott Clifton) will remain concerned about Hope Spencer (Annika Noelle). B&B fans know that Hope recently removed her wedding and pushed Liam to reunite with Steffy Forrester (Jacqueline MacInnes Wood). Hope doesn't feel right about keeping Liam, Steffy and the girls from being the perfect family.
Liam did his best to make progress with Hope on Friday, but he'll still worry about what the future holds. It's clear that Hope's in a fragile state of mind and has given up on the happiness of having her own child. "The Bold and the Beautiful" spoilers say Liam will decide he could use some support. He'll want to talk to his brother and ask for advice, so Wyatt Spencer (Darin Brooks) will get a visit.
Liam will note that Hope's maternal instincts have gone a little haywire. He'll speak with Wyatt about Hope's growing obsession with "Phoebe Forrester" (Isabella de Armas and Redford Prindiville) and how it's affecting her judgment. Hope can't love Beth Spencer the way she wants to, so she feels like she has to make sure "Phoebe" and Kelly Spencer (Zoe Pennington and Chloe Teperman) are covered.
Of course, Liam is perfectly capable of being a dad to the girls and a husband to Hope. He'll undoubtedly tell Wyatt that and wish Hope could truly understand, too. However, Wyatt's guidance just might surprise Liam. It turns out Wyatt won't be so quick to dismiss the idea of a "Steam" family reunion. Liam and Wyatt will have a deep discussion about that later this week.
Bill throws Wyatt and Sally a curve-ball when it comes to Spectra Fashions. WATCH FULL EPISODE: https://t.co/1TtrVB3xOV #BoldandBeautiful pic.twitter.com/VKlbCYsxns

— Bold & The Beautiful (@BandB_CBS) March 1, 2019
Oher "Bold and the Beautiful" spoilers say Florence "Flo" Fulton's (Katrina Bowden) guilt will reach an all-time high. She'll listen in on Hope's chat with Katie Forrester (Heather Tom) and grapple with the weight of her deception. Hope's pain will be evident as she confides in Katie, so Flo will feel worse than she's ever felt.
Zoe Buckingham (Kiara Barnes) will have quite a mess on her hands soon! She'll definitely struggle to keep Flo's mouth shut in the coming episodes. We'll give you updates as other B&B news and rumors emerge. Stay tuned to the CBS soap and don't forget to check CTS often for the latest "Bold and the Beautiful" spoilers, rumors, updates and news.
Want up-to-the-minute soaps news, spoilers, and gossip on your social feeds? Just hit 'Like' on our Facebook page and 'Follow' on our Twitter account.