The Bold And The Beautiful Spoilers Thursday, May 25: Brooke's New Struggle, Thomas Reflects
The Bold and the Beautiful spoilers for Thursday, May 25 reveal that Brooke Logan (Katherine Kelly Lang) will face a new struggle. Meanwhile, Thomas Forrester (Matthew Atkinson) reflects on the possibility that Hope Logan Spencer (Annika Noelle) might be romantically interested in him. Keep reading to find out what is coming up in the CBS soap opera.
The Bold And The Beautiful Spoilers – Taylor Hayes' Conflict
B&B spoilers for Thursday, May 25 reveal that Taylor Hayes (Krista Allen) will still be boggled over Thomas' statements about Brooke. After Taylor quizzed Thomas, she realized that Brooke wasn't honest about her feelings regarding the reformed stalker. To be fair, Thomas did tell Taylor that Brooke's feelings are understandable considering the history.
B&B Spoilers – Brooke Logan's Struggle
After Taylor confronted Brooke, expect the turmoil in the friendship to continue. Taylor is upset as Thomas is her son. Plus, Taylor knows that Thomas is headed in the right direction now. On the other hand, Taylor feels that Brooke should be supportive of Thomas' redemption attempts instead of doubtful.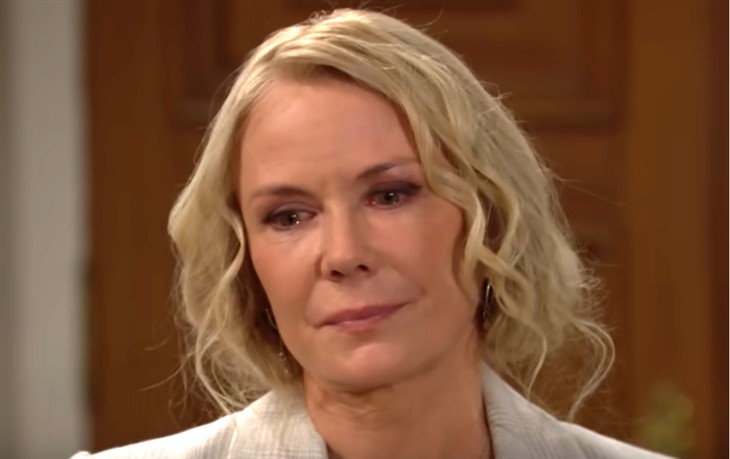 Taylor is also upset because it makes her wonder what other feelings Brooke is keeping from her. Namely about Taylor and Brooke's eternal love triangle with Ridge Forrester (Thorsten Kaye).
It is teased that Brooke will struggle to keep her friendship with Taylor.
The Bold And The Beautiful Spoilers – Thomas Forrester Reflects
The Bold and the Beautiful spoilers for Thursday, May 25 reveal that Thomas will be stunned over the possibility that Hope has feelings for him.
Thomas will reflect on his history with Hope, which probably includes flashbacks. Some of the flashbacks will probably include Douglas Forrester (Henry Joseph Samiri) and Liam Spencer (Scott Clifton).
B&B Spoilers – Thursday, May 25
On Thursday, May 25, fans might also see Liam react to Steffy Forrester Finnegan's (Jacqueline MacInnes Wood) bombshell. Liam will talk to Wyatt Spencer (Darin Brooks) and then confront Hope, but not until the end of the week.
So, what happens with Hope in the meantime? Will she end up making a move on Thomas? If so, what does this mean for the futures of both "Thrope" and "Lope"? Stay tuned as the outcome is hinted to be explosive.
Which storyline are you looking forward to seeing the most on Thursday, May 25? What are your predictions for Brooke, Taylor, Ridge, Thomas, Liam, Hope and Steffy? What does the future hold for Bill Spencer (Don Diamont), Katie Logan (Heather Tom), Carter Walton (Lawrence Saint-Victor), Eric Forrester (John McCook) and the other characters? Share your thoughts in the comment section below. Remember to keep watching the soap on CBS or Paramount+ to find out what happens next.
Be sure to catch up on everything happening with B&B right now. Come back often for The Bold and the Beautiful spoilers, news, and updates.