The Bold and the Beautiful Spoilers: Thursday, October 11 – Steffy Has Kiss Confession Plans – Katie's Horrified by Brooke's News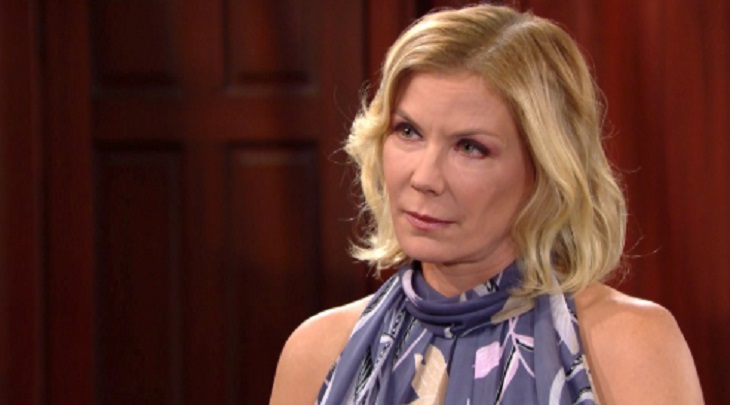 "The Bold and the Beautiful" spoilers for Thursday, October 11, tease that Steffy (Jacqueline MacInnes Wood) will remain in shock. She just walked in on Brooke (Katherine Kelly Lang) and Bill's (Don Diamont) lip lock, so that'll leave her thrown for a loop. Once Steffy composes herself, she'll have to figure out how to tackle this crisis. Steffy will need to decide if she's going to blab or keep quiet.
Since Steffy knows a thing or two about betrayal and what it can do to a relationship, she'll opt to come clean. Steffy will think it'd be better for Ridge (Thorsten Kaye) to have all the facts. She'd want updates if she were in her dad's position. Steffy will hate the idea of breaking Ridge's heart, but she'll determine that she has to be a loyal daughter.
While Steffy prepares for confession time, Brooke will head off to find Katie (Heather Tom). She'll want to make an admission as well. B&B fans know Ridge influenced Judge Lando's (Joe Lando) custody ruling. Brooke was furious, but she's trying to keep her mouth shut for her husband's sake.
However, that silence won't extend to Katie. She's right in the middle of all this, so Brooke will want to explain everything. "The Bold and the Beautiful" spoilers say Katie will reel over Brooke's big news. She'll be horrified by how low Ridge stooped, but what can she do about it?
Brooke will push Katie to stay silent and keep Ridge out of prison. That means Katie will just have to wrestle with the secret, too. Still, Brooke will hope this makes Katie soften a tad. The fight wasn't fair, so it's not fair to keep Bill at a distance either.
Escape, love, and believe with #BoldandBeautiful weekdays on @CBS. 💙 pic.twitter.com/3XO1GL4J05

— Bold & The Beautiful (@BandB_CBS) October 5, 2018
Katie will indeed make more of an effort with Bill next week. She'll be especially generous with Will (Finnegan George) visits, so that should please Bill. He just wants to step up and be a great dad. "The Bold and the Beautiful" spoilers say Bill will be in the dark for a while, but what happens when the truth comes out?
A B&B storm's looming, so don't miss the explosive episodes ahead. We'll keep you posted as other details and rumors emerge. Stick with the CBS soap and don't forget to check CTS often for the latest "Bold and the Beautiful" spoilers, rumors, updates and news.
Want up-to-the-minute soaps news, spoilers, and gossip on your social feeds? Just hit 'Like' on our Facebook page and 'Follow' on our Twitter account.