The Bold and the Beautiful Spoilers Tuesday, December 4: Taylor and Brooke's War Explodes – Pam's Rage Grows as a New Plan Forms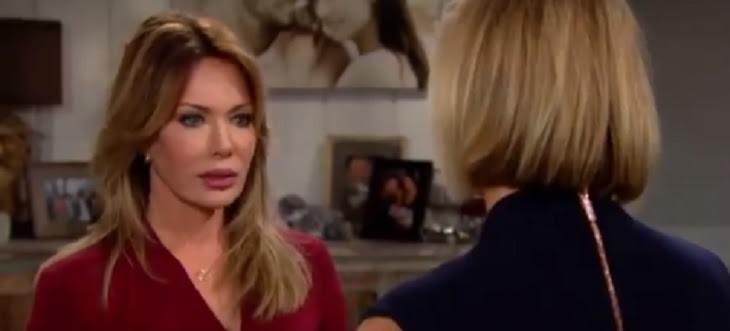 "The Bold and the Beautiful" spoilers for Tuesday, December 4, tease that Brooke (Katherine Kelly Lang) will rip into Taylor (Hunter Tylo) over her atrocious actions. She'll suggest that Taylor never learns from her mistakes and all the drama they cause. Instead, Taylor just keeps making a bigger mess.
Brooke will rant about Taylor firing a bullet into Bill (Don Diamont) and leaving him to die. She'll wonder how Taylor can live with herself after doing something so heinous. Taylor should admit it was a terrible decision, but she may pipe up about her reasons. She regrets that shocking move, but she still blames Bill for driving Steffy (Jacqueline MacInnes Wood) and Liam (Scott Clifton) apart.
Brooke won't think there's any excuse for trying to take someone else's life so viciously. She'll feel like this incident proves Taylor is dangerous and can't be trusted. Brooke will back up Liam's idea about the kids being put in harm's way. She certainly won't want Taylor posing a threat to Kelly or Hope's (Annika Noelle) unborn child.
Liam attempts to convince Bill that Taylor remains a threat to their family's safety. WATCH FULL EPISODE: https://t.co/pRsVvuBLfv #BoldandBeautiful pic.twitter.com/fj39GK6NUx

— Bold & The Beautiful (@BandB_CBS) December 3, 2018
Taylor will defend herself and start an all-out war in the process. B&B fans will see Brooke and Taylor's conflict explode, which is only going to make matters worse. The more agitated Taylor becomes, the more likely it is that she'll do something else she regrets. "The Bold and the Beautiful" spoilers hint that a perilous shocker is coming up down the road.
In the meantime, Pam (Alley Mills) will seethe over Quinn (Rena Sofer) and the spot she's secured in Eric's (John McCook) life. She wants her out of that spot ASAP and Donna (Jennifer Gareis) is her best shot at making that happen. On Tuesday, Pam will explain how strongly she feels about this. She'll let Donna know that it's crucial for her to snatch Eric up.
Pam will come up with a new plot, which involves Donna modeling for Eric in private. This team will put the sneaky plan in motion later this week, so stay tuned. We'll give you updates as other "Bold and the Beautiful" news and rumors emerge. Stick with B&B and don't forget to check CTS often for the latest "Bold and the Beautiful" spoilers, rumors, updates and news.
Want up-to-the-minute soaps news, spoilers, and gossip on your social feeds? Just hit 'Like' on our Facebook page and 'Follow' on our Twitter account.