Kim Kardashian Wins Back Fashion Industry Without Kanye
The Kardashians spoilers reveal that Kim Kardashian won back the fashion industry. She doesn't need her ex-husband Kanye West to get their approval.
She even trended on X, formerly known as Twitter, the other day for her new photoshoot. Keep reading to learn more.
The Kardashian Spoilers: Kim Kardashian Wins Back Fashion Industry
The Kardashians spoilers suggest that Kim Kardashian is back. She's earning back the truth of the fashion industry without the Yeezy designer.
Kim appeared in Issue 23 called "Muses" in CR Fashion Book. The reality star looked unrecognizable without her signature long dark hair and contoured makeup. Kim played around with different styles in the fashion publication.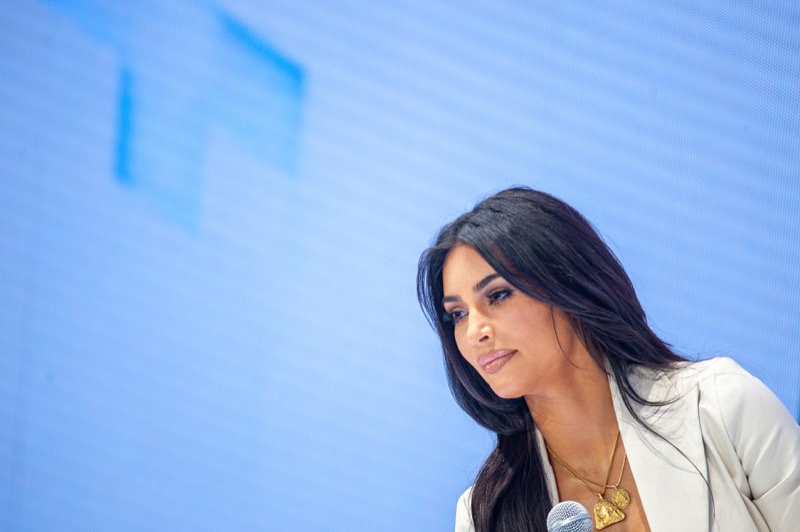 The cover photo featured the American Horror Story: Delicate star in a white ribbed tank top. Kim sported a pixie haircut and thick-framed glasses. Her eyebrows were arched and thin.
She looked deadpanned into the camera. The rest of the photo shoot showed the television personality in smudged clown makeup. She rested one hand on her chin as she looked at the camera.
In another shot, Kim Kardashian wore a gray suit. She sat down on the couch and lit up a cigarette. In another, she held up a retro camera as she pretended to take a photo.
The photos were shot in black-and-white by famed photographer Nadia Lee Cohen. However, there was one colored photo that featured her in a red one-shoulder sweatshirt with white fur trim.
This is her only photoshoot that didn't include Kanye's signature style. The Kardashians spoilers suggest that Kim is now cementing herself in the fashion industry.
She is trying to maintain her spot without her rapper ex. One fan called it one of her "best photo shoots" yet. Others claim that this will set Kim up for a major comeback.
The Kardashians Spoilers: Kanye West's Ex-Wife Back In Fashion
One fan took to Reddit to share the shots of Kim Kardashian's shoot along with the reactions from X. Some even posted memes.
Regardless, The Kardashians Spoilers reveal that Kim is back and here to stay. The thread reads: "Mother was trending for a while on Twitter! SHE IS BACK!" Fans took to the thread to share their reaction.
One fan wrote: "I mean at least this shoot gives her a bit of a personality. It's nice seeing her not looking the same for once."
Another user noted: "HF loved this shoot! Even the fashion forums were praising it!"
What are your thoughts on Kim Kardashian's new photoshoot? Do you agree that she's won over the fashion industry on her own? Do you think Kim is finally back? Sound off below in the comment section.
As always, check back for more spoilers, news, and updates on The Kardashians.
Editorial credit: Asatur Yesayants / Shutterstock.com