Days Of Our Lives Early Weekly Spoilers: Flirty Mistakes, Enemy Alliances, Hospital Disappearance
Days of Our Lives early weekly spoilers are in. During the week of May 29, fans can expect Abe Carver (James Reynolds) to make a flirty mistake with a nurse. Abe will also later go missing from the hospital. Meanwhile, Colin Bedford (Jasper Newman) escapes. Nicole Walker (Arianne Zucker) and Sloan Petersen (Jessica Serfaty) join forces. Plus, Leo Stark (Greg Rikaart) extends an olive branch to Colin.
Days Of Our Lives Spoilers – Monday, May 29: Sloan Petersen's Lie
DOOL early weekly spoilers for Monday, May 29 reveal that Nicole and Sloan will join forces. Nicole doesn't want EJ DiMera (Dan Feuerriegel) and Eric Brady (Greg Vaughan) to learn about the baby until she discovers the paternity. While Sloan already knows Nicole is pregnant, she doesn't want to risk losing Eric – especially if the baby is EJ's.
However, Nicole and Sloan are caught together by Eric. This forces the rivals to come up with a cover story.
Fans can also expect Anna DiMera (Leann Hunley) to worry about Tony DiMera (Thaao Penghlis) exposing Nicole's secret. Stefan DiMera (Brandon Barash) and Gabi Hernandez (Camila Banus) try to get Megan on their side. Elsewhere, Leo asks Johnny DiMera (Carson Boatman) for family dirt.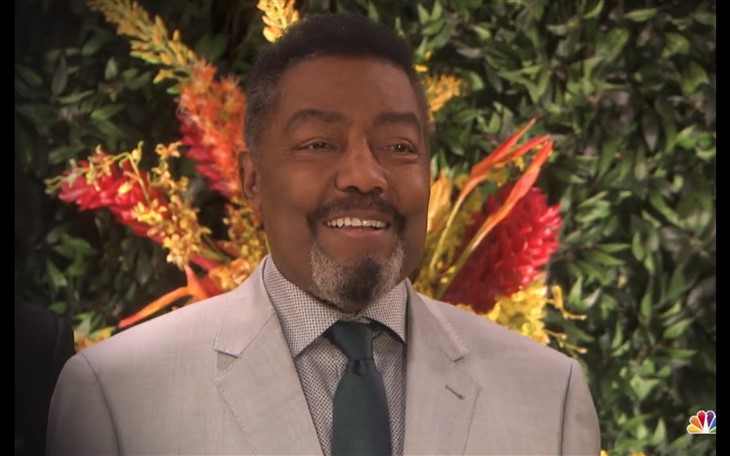 DOOL Spoilers – Early Weekly Spoilers: Tuesday, May 30
On Tuesday, May 30, Bonnie Lockhart Kiriakis (Judi Evans) finds a very pregnant Sarah Horton (Linsey Godfrey) at Rex Brady's (Kyle Lowder) place. Will Bonnie tell Maggie Horton Kiriakis (Suzanne Rogers) about Sarah's pregnancy? Will Sarah admit to Bonnie that the baby is actually Xander's? If so, will Bonnie keep Sarah's secret?
Tuesday's episode will also feature Brady Black (Eric Martsolf) asking Chloe Lane (Nadia Bjorlin) to come back to Basic Black. Chad DiMera (Billy Flynn) finds Stephanie Johnson (Abigail Klein) and Alex Kiriakis (Robert Scott Wilson) together. Plus, Justin Kiriakis (Wally Kurth) confronts Maggie over firing Alex.
Days Of Our Lives Spoilers – Wednesday, May 31: Talia Hunter Victimized
Days of Our Lives early weekly spoilers for Wednesday, May 31 reveal that Jada Hunter (Elia Cantu) wonders if Talia Hunter (Aketra Sevillian) is a victim of emotional abuse. Eric informs Sloan that he knows she lied to him. Abe mistakes a nurse for Paulina Price (Jackee Harry). Plus, Anna will quiz Nicole about whether she loves EJ or Eric more.
Days of Our Lives Early Weekly Spoilers: Thursday, June 1
On Thursday, June 1, fans can expect Leo to offer Colin a chance to tell his side of the story. Sloan slams Rafe for allowing Colin to escape custody. Abe goes missing from the hospital. Marlena will tell Kayla that Nicole is keeping a secret. Fans will also see Eric confront Nicole over her pregnancy.
DOOL Spoiles – Friday, June 2: 'Stabi' Schmooze
On Friday, June 2, fans can expect Nicole to decide she needs to confess to EJ. Eric will talk to Marlena about Nicole's pregnancy. Stefan and Gabi try to schmooze Megan and Kristen. Plus, Harris Michaels (Steve Burton) tells Steve "Patch" Johnson (Stephen Nichols) that he is in town to keep an eye on Megan.
Be sure to catch up on everything happening with DOOL right now. Come back often for Days of Our Lives spoilers, news, and updates.