Days Of Our Lives Early Weekly Spoilers: Megan's Break-In, Nicole's DNA Test, 'Stabi' Wedding
Days of Our Lives early weekly spoilers are in. During the week of May 22, Megan Hathaway (Miranda Wilson) breaks into the DiMera mansion. Nicole Walker (Arianne Zucker) asks Kayla Johnson (Mary Beth Evans) about a paternity test. Plus, Stefan DiMera (Brandon Barash) and Gabi Hernandez (Camila Banus) get ready to tie the knot.
Days Of Our Lives Spoilers – Megan Hathaway's Break-In
DOOL spoilers reveal that Megan's plan to escape prison will succeed. After Megan gets out of prison, she will go straight to the DiMera mansion. Don't expect Megan to knock on the door or introduce herself. Instead, EJ DiMera (Dan Feuerriegel) is blindsided to find Megan inside of his home.
Meanwhile, Harris Michaels (Steve Burton) warns Shawn Brady (Brandon Beemer) that Megan is free. Kate Roberts Brady (Lauren Koslow) and Roman Brady (Josh Taylor) react to Megan's freedom. Kristen DiMera (Stacy Haiduk) warns Megan that she made her a promise.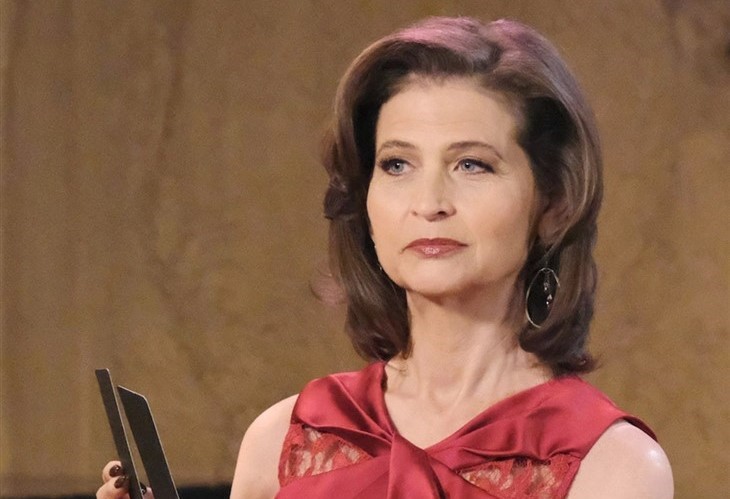 DOOL Spoilers – Nicole Walker's Baby
During the week of May 22, early weekly spoilers state that Eric Brady (Greg Vaughan) issues an ultimatum to Sloan Petersen (Jessica Michele Serfaty). Anna DiMera (Leann Hunley) lies to Tony DiMera (Thaao Penghlis) to protect Nicole. When EJ proposes, Nicole will feel insulted. Later, Nicole asks Kayla about getting a paternity test.
Days Of Our Lives Spoilers – 'Stabi' Wedding
Days of Our Lives spoilers for the week of May 22 reveal that Gabi will deliver signed divorce papers to Li Shin (Remington Hoffman). By the end of the week, Stefan and Gabi will celebrate their upcoming nuptials. With Banus leaving while Barash stays, how will "Stabi" be torn apart?
DOOL Spoilers – Early Weekly Spoilers
During the week of May 22, Rafe Hernandez (Galen Gering) races to save Abe Carver's (James Reynolds) life. Talia Hunter (Aketra Sevillian) intervenes to protect Chanel Dupree (Raven Bowens) from Colin Firth (Jasper Newman).
It is also teased that during the week of May 22, Wendy Shin (Victoria Grace) talks to Johnny DiMera (Carson Boatman) about Tripp Johnson (Lucas Adams). John Black (Drake Hogestyn) tells Paul Narita (Christopher Sean) about Andrew Donovan's (Colton Little) kidnapping. Kate and Marlena Evans (Deidre Hall) reunite. Plus, Xander Cook (Paul Telfer) offers Chloe Lane (Nadia Bjorlin) a job.
Which storyline are you looking forward to seeing the most during the week of May 22? What are your predictions for EJ, Eric, Sloan, Nicole, Megan, Kristen, Colin, Abe and Paulina? What does the future hold for Tony, Anna, Marlena, John, Andrew, Kate, Roman and the rest of the Salemites? Share your thoughts in the comment section below. Remember to keep watching the soap on Peacock to find out what happens next.
Be sure to catch up on everything happening with DOOL right now. Come back often for Days of Our Lives spoilers, news, and updates.