Days Of Our Lives Preview: Maggie's Threat, Jada's Proposition, Nicole Blindsides Sloan
Days of Our Lives spoilers for the week of March 6 reveal that the weekly promo clip shows Maggie Horton Kiriakis (Suzanne Rogers) issuing a threat. Meanwhile, Jada Hunter (Elia Cantu) asks Rafe Hernandez (Galen Gering) if he's interested in her. Plus, Nicole Walker (Arianne Zucker) blindsides Sloan Petersen (Jessica Serfaty). Keep reading to find out what to expect in the Peacock soap.
Days Of Our Lives – Confessions & Bombshells
DOOL spoilers for the week of March 6 reveal that Gabi will share some news. It's not known who Gabi is talking to in the promo clip. However, it must have something to do with a DiMera because Gabi is standing at the CEO's desk.
The next scene shows Leo Stark (Greg Rikaart) speaking with Chad DiMera (Billy Flynn). It appears that Chad is trying to get some intel from Leo. However, could this be what Chad does to anger Stephanie Johnson (Abigail Klein)?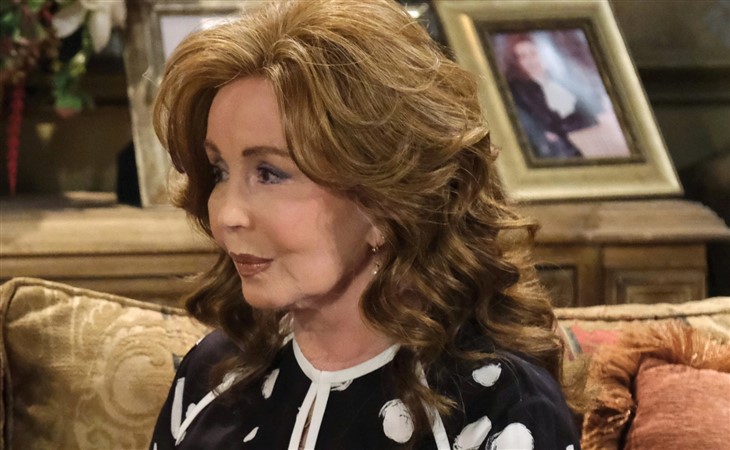 DOOL Spoilers – Belle Brady's Decision
During the week of March 6, Belle will make a return to the screen. Belle goes to the jail to see Brady Black (Eric Martsolf) and Eric Brady (Greg Vaughan). While Belle does agree to help Brady, the attorney refuses to help her own brother. That will lead to Sloan making Eric an unholy offer. Based on the promo clip, it looks like Eric takes Sloan's deal.
Then, Nicole runs into Eric and Sloan. Harsh words are exchanged between the woman, which prompts Sloan to try slapping Nicole. However, Nicole grabs Sloan's hand before it touches her face. It seems that Sloan and Nicole have met their matches.
Days Of Our Lives – Wendy Shin Lectured
Days of Our Lives spoilers for the week of March 6 reveal that Mr. Wei Shin (Clyde Kusatsu) lectures Wendy Shin (Victoria Grace). As Wendy rolls her eyes, Mr. Shin talks about the sins of a girl living with a boy.
Days Of Our Lives Spoilers – Week Of March 6
Maggie and Alex Kiriakis (Robert Scott Wilson) get into a fierce business argument. It is teased that Maggie threatens to fire Alex. However, this time Maggie isn't joking.
Jada will ask Rafe if he's interested in her romantically. Gabi and Stefan DiMera (Brandon Barash) happily kiss. However, is this really the end of their nightmare?
Which storyline are you looking forward to seeing the most during the week of March 6? What are your predictions for Nicole, Sloan, Eric, Brady, Stefan and Gabi? What does the future hold for Chad, Stephanie, Leo, Maggie, Alex and the other Salem residents/ Share your thoughts and remember to keep watching the soap on Peacock to find out what happens next.
Be sure to catch up on everything happening with DOOL right now. Come back often for Days of Our Lives spoilers, news, and updates.