Days Of Our Lives Spoilers: 3 Must-See DOOL Moments – Week Of August 21
Days of Our Lives spoilers for the week of August 21 reveal that there are three must-see moments. Fans can expect Xander Cook (Paul Telfer) to learn about Sarah Horton's (Linsey Godfrey) baby. K
ate Roberts Brady (Lauren Koslow) and Chloe Lane (Nadia Bjorlin) encounter a familiar face. Plus, Gwen Rizczech (Emily O'Brien) interrupts Dimitri von Leuschner's (Peter Porte) intimate moment, presumably with Leo Stark (Greg Rikaart). Keep reading to find out what is coming up in the Peacock soap opera.
Days Of Our Lives Spoilers – Xander Cook's Baby Discovery
DOOL spoilers for the week of August 21 reveal that one must-see moment centers on "Xarah." Right now, Sarah is pregnant with Xander's baby.
However, Xander didn't even know Sarah was expecting until her return to Salem.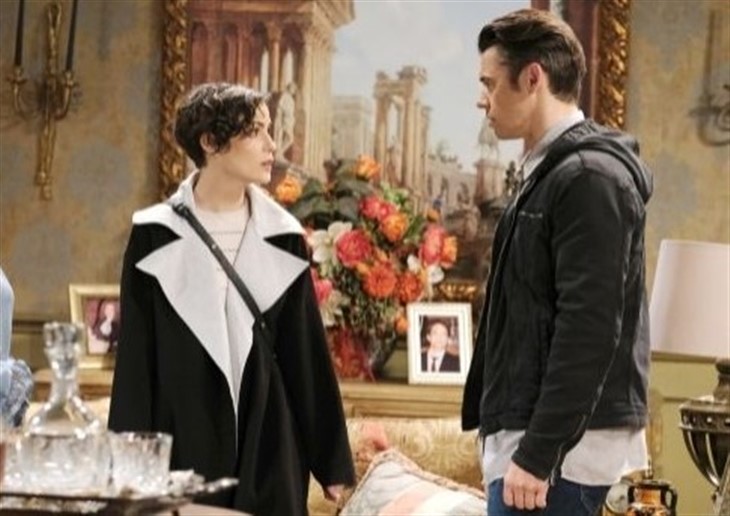 The weekly preview clip shows Xander and Sarah facing each other again. Even though Sarah tries to lie about Rex Brady (Kyle Lowder) being the baby's father, Xander can do basic arithmetic. Then, Xander fumes at Sarah after realizing she never intended to tell him the truth at all.
DOOL Spoilers – Philip Kiriakis Returns
During the week of August 21, Kate will get a shock by a surprise visitor. This surprise visitor must be none other than her son, Philip Kiriakis (John-Paul Lavoisier).
The timing would be about right based on casting reports as well as Victor Kiriakis' (John Aniston) death. After all, Philip will need to say goodbye to his father.
Days Of Our Lives Spoilers – Another Surprise Encounter
Days of Our Lives spoilers for the week of August 21 reveal that another must-see moment centers on Chloe.
It is teased that Chloe gets an unexpected visitor. Considering that Chloe and Kate just spoke about Philip, it must be the "dead" Salemite.
Chloe will want answers from Philip. After all, Chloe believed that Philip was dead. Then, Philip framed Brady Black (Eric Martsolf) for the fake crime.
Even though Brady was eventually released, he was facing prison time for a while there. So, how will Philip earn redemption and make things right?
DOOL Spoilers – More Must-See Moments
Other must-see moments include some flashbacks. Fans will get to see Victor and Marlena Evans (Deidre Hall) involved in a slap-fest. Plus, Kristen DiMera (Stacy Haiduk) recalls stabbing Victor with a letter opener.
There will also be a flashback featuring Victor pushing Nicole Walker (Arianne Zucker) out of a window.
Which storyline are you looking forward to seeing the most during the week of August 21? What are your predictions for Rex, Sarah, Xander, Chloe, Brady, Xander and Philip?
What does the future hold for Kate, Roman Brady (Josh Taylor), Marlena, Nicole and the rest of the Salemites?
Share your thoughts in the comment section below. Remember to keep watching the soap on Peacock to find out what happens next.
Be sure to catch up on everything happening with DOOL right now. Come back often for Days of Our Lives spoilers, news, and updates.