Days of Our Lives Spoilers: Bonnie's Return Causing Immense Drama for Several Salemites!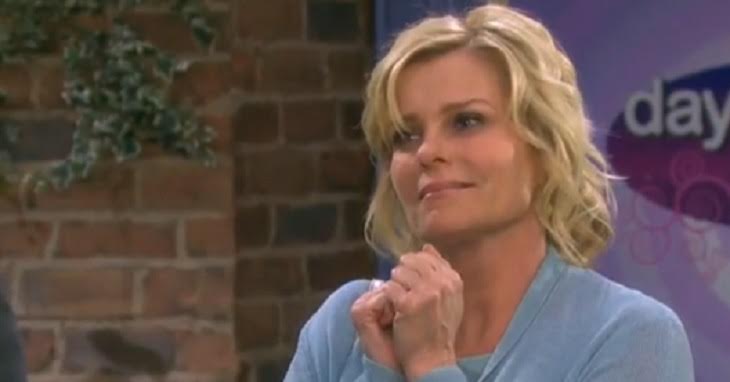 Days of Our Lives (DOOL) spoilers reveal Steve "Patch" Johnson (Stephen Nichols) comes through for his sister, Adrienne Kiriakis (Judi Evans).
He finds Bonnie Lockhart (Judi Evans) and brings her right to the Salem PD. In true Bonnie fashion, she will use everything, including sexual innuendos to escape custody, but it all fails.DOOL sources tease that things will get a lot worse for Bonnie, when Adrienne comes face to face with her doppelganger.
She doesn't hold back as she exchanges words with the wanted fugitive. Bonnie destroyed many lives, including Lucas Horton (Bryan Dattilo), who fell off the wagon, turning back to alcohol to cope with his life and heart being torn apart. Bonnie also screwed with Justin Kiriakis (Wally Kurth) and their son, Sonny Kiriakis (Freddie Smith).
LOVE DAYS OF OUR LIVES? SIGN UP FOR OUR DOOL NEWSLETTER!
There is no way, Adrienne is going to let this slide, nor let Bonnie escape and destroy the lives of more people she loves. As viewers of the NBC soap opera, you know Adrienne spent months in prison thanks to no one believing she was who she said she was.
Adrienne suffered a lot because of Bonnie and spoilers reveal she wants nothing more than to beat Bonnie up for all the havoc she caused and if she has her way, Bonnie will never taste freedom again!Days of Our Lives spoilers reveal Judi Evans admits playing the seduction scenes with Stephen Nichols were a "tad weird" since they have portrayed brother and sister on the NBC sudser for a very long time; admitting, "It was funny and certainly a little bit of a mind chaser for the two of us." It sure will be great to see Judi Evans portraying the duo roles again.
How do you feel about Bonnie returning to Salem and will there ever be true justice for everything she has done to Adrienne and everyone she loves?Be sure to tune into NBC's Days of Our Lives (DOOL) to catch up on everything happening in Salem right now. Fans will not want to miss Adrienne confronting Bonnie. Check Celebrating the Soaps often for updates, news and spoilers!
Read more Celebrating the Soaps news, spoilers, and gossip on our Days Of Our Lives homepage