Days of Our Lives Spoilers: Chabby's Happy Ending – Chad And Abigail Reconcile For Valentine's Day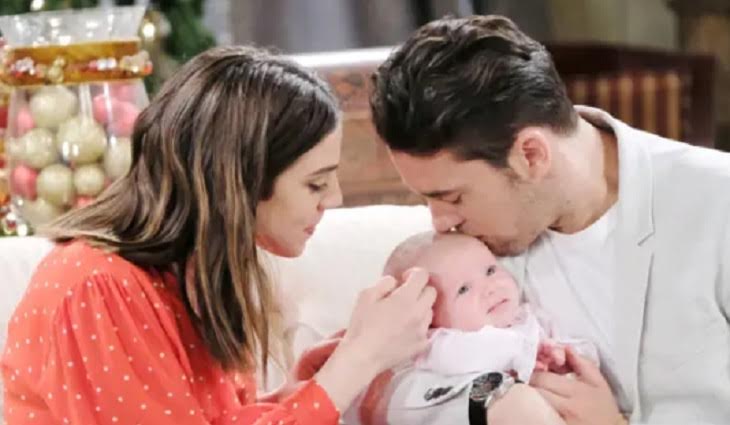 Days of Our Lives spoilers tease that Abigail and Chad DiMera (Kate Mansi, Billy Flynn) will be reconciled in time for a Valentine's Day dinner! Baby Charlotte (Chloe Teperman) is expected to have been returned by that time according to other Days of Our Lives spoilers, and all will feel good in Abby's world, other than her father Jack Deveraux (Matthew Ashford) not having had recovered his memories.
It's been a long time since "Chabby" was happily together and a very rough year or so. This time last year was when Abby accidentally killed her brother-in-law Andre DiMera (Thaao Penghlis) and was diagnosed with Dissociative Identity Disorder (split personalities) which went on for several months, during which time she also became pregnant, but until recently didn't know if baby Charlotte was Chad's or her brother-in-law Stefan DiMera's (Tyler Christopher) because of her alters' activities. One of her alters was also responsible for Andre's death.
In the latest #DAYS, Ciara tries to escape! https://t.co/ZsCmioRrzb pic.twitter.com/LnqRhaC0yz

— Days of our Lives (@nbcdays) February 11, 2019
Even though other Days of Our Lives spoilers don't say Chad is actually going to return Charlotte to Abby's arms, he will still be a hero, helping Ben Weston (Robert Scott Wilson) rescue Ciara Brady (Victoria Konefal) from a burning cabin after she was kidnapped by Ben's sister Jordan Ridgeway (Chrishell Hartley). That will count for something because Ben and Chad will have assumed that Jordan had Charlotte too, and they were correct; only she will have returned the baby to Abby on her own.
Days of Our Lives down-the-road spoilers tease that Abby and Chad and their little family will move away from Salem, probably to get a new start, or perhaps Chad will run one of the branch offices of DiMera Enterprises and they will move for work reasons. Stay tuned to Days of Our Lives and keep checking Days of Our Lives spoilers for the latest developments in Salem!
Be sure to tune into NBC's Days of Our Lives (DOOL) on Monday, February 11, 2019, to catch up no all the excitement happening right now in Salem. Check Celebrating the Soaps often for updates, news, rumors, and DOOL spoilers!