Days of Our Lives Weekly Spoilers February 11 to 15: Dramatic Rescue, Secrets Exposed and Hurtful Encounters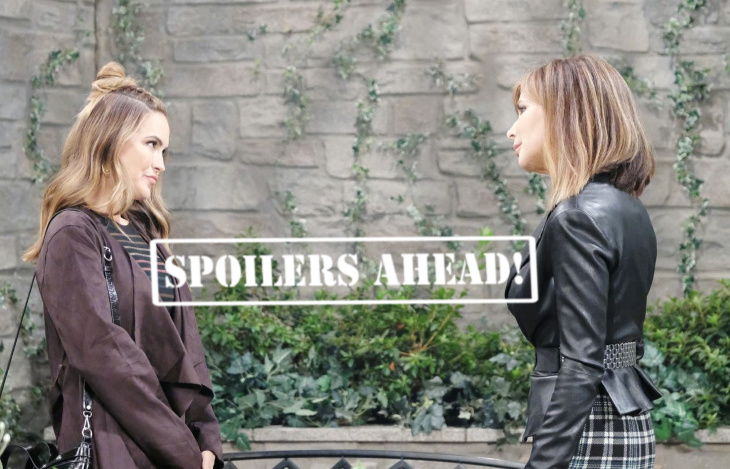 Days of Our Lives (DOOL) spoilers for the week of Monday, February 11 through Friday, February 15, 2019, reveal a dramatic rescue, secrets exposed and hurtful encounters are all part of the week to come. DOOL fans will not want to miss out on all the excitement, beginning Monday, February 11!
DOOL Spoilers Ben Saves Ciara and Charlotte
DOOL sources tease that Ben Weston (Robert Scott Wilson) will go to great lengths to find his love, Ciara Brady (Victoria Konefal); including pleading with arch enemy, Chad DiMera (Billy Flynn). Ben will have to prove his innocence and the two will unite to find Ciara and baby Charlotte, rescuing them from the burning cabin. Who isn't excited to see Ben and Ciara reunite?
Days Of Our Lives Spoilers Eve Manipulates Jack
Vixen Eve Donovan (Kassi DePaiva) will continue to manipulate the situation with Jack Deveraux (Matthew Ashford). She will push him to use the information he has on Haley Chen (Thia Megia) for his gain. Will Jack break his son, JJ Deveraux' (Casey Moss) confidences in order to get the advantage Eve wants as she continues to press him to be the next Mayor of Salem?
Previously on #DAYS, Abigail discovers Charlotte is missing!https://t.co/ZsCmioRrzb pic.twitter.com/iRYkBvlDdh

— Days of our Lives (@nbcdays) February 9, 2019
DOOL Kate In a Dangerous Situation
Days of Our Lives spoilers show Kate Roberts (Lauren Koslow) will be in trouble when Jordan Ridgeway (Chrishell Stause Hartley) is determined to keep her quiet after she gets too close to exposing everything. Detective Rafe Hernandez (Galen Gering) will be the one who finds Kate in a very dangerous position. Will Rafe be able to save Kate from all harm?
Days Of Our Lives Rafe Finds Jordan
After Ben and Ciara reunite, Jordan will be on the lam; only for Rex Brady (Kyle Lowder) to find her in very disturbing condition. Will Rex fall for the "woman in distress" situation, or will he turn Jordan into the authorities for what she has just done to Ciara and Charlotte?
Valentine's Day is on the horizon as lovers come together, but it won't be without harrowing moments beforehand!
Be sure to tune into NBC's Days of Our Lives (DOOL) on Monday, February 11, 2019, to catch up no all the excitement happening right now in Salem. Check Celebrating the Soaps often for updates, news, rumors, and DOOL spoilers!