Days Of Our Lives Spoilers: Chloe Lane Disappears, Is She Gone For Good?
Days of Our Lives spoilers indicate that Chloe Lane (Nadia Bjorlin) has disappeared after learning that Stefan Dimera (Brandon Barash) is still in love with Gabi Hernandez (Camila Banus). Chloe has been hurt by both Stefan and Brady Black (Eric Martsolf). Has Chloe left Salem for good?
Days Of Our Lives Spoilers – Brady Black Broke Up With Chloe Lane
Days Of Our Lives spoilers reveal that Brady broke up with Chloe after Kristen Dimera (Stacy Haiduk) forced him to do so to keep Marlena Evans (Deidre Hall), Kate Brady (Lauren Koslow), and Kayla Johnson (Mary Beth Evans) alive. Kristen threatened to destroy the orchid if Brady didn't break up with Chloe and move her back into his home.
Chloe had recently learned that Brady had lied about their breakup when he revealed everything that Kristen had done. Unfortunately, Chloe had fallen for Stefan by this time and believed that he cared for her even though she knew he had been brainwashed. Stefan's latest declaration was just too much for Chloe to handle right now.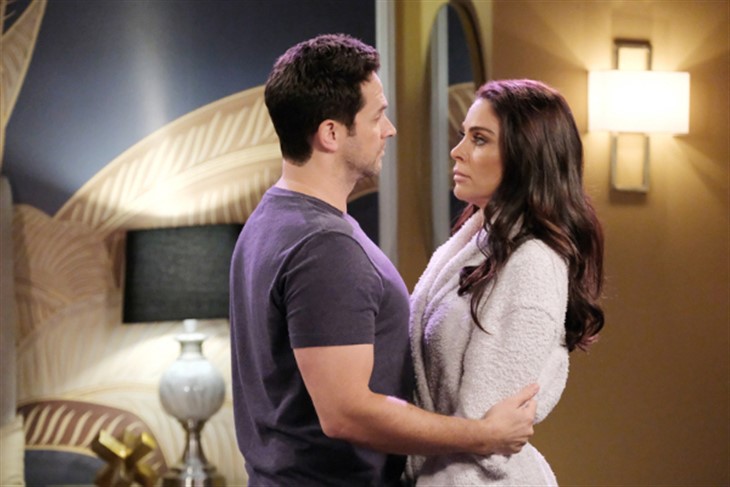 DOOL Spoilers – Stefan Dimera Didn't Want Deprogrammed
Stefan had given up on being deprogrammed because of Marlena Evans' (Deidre Hall) death. However, Gabi clocked him over the head and tied him up before getting Dr. Rolf (Richard Wharton) back into Salem. Rolf may have been forced to use old equipment but at least he was partially deprogrammed. Unfortunately, Chloe just could not handle hearing Stefan says he was in love with her and Gabi both.
Chloe just needs a break. Brady wants Chloe back but he broke Chloe's heart. Chloe wants to be with Stefan, who suddenly loves another woman as well. Chloe thought she had found a man who wanted to be with her and wasn't going to break her heart as Brady did. Chloe thought she could finally be happy without having to watch her back.
Days Of Our Lives Spoilers – Has Chloe Lane Returned To New York?
Chloe quit her job at Dimera Enterprises. Chloe's hotel room has been cleaned out and everything is gone. Of course, Chloe's mother lives in New York and was keeping her son there. Has Chloe simply decided to give up and return to New York? Perhaps Chloe has realized that there is nothing for her in Salem.
Normally Chloe would not just walk away without saying a word. However, Chloe has faced an awful lot lately. Now one can blame Chloe for needing a reset. Chloe needs time to process everything she has been through. Chloe needs to figure out if she wants to be with Brady or Stefan or neither of them. Will Chloe return after things calm down or is she gone for good?
Be sure to catch up on everything happening with DOOL right now. Come back here often for Days Of Our Lives spoilers, news, and updates.