Days Of Our Lives Spoilers Friday, Aug 18: 50th Anniversary, Brutes Brawl, Tragic Death Aftermath
Days of Our Lives spoilers for Friday, August 18 reveal that Suzanne Rogers celebrates 50 years of playing Maggie Horton Kiriakis.
It will be bittersweet as it airs at the same time as the death of Maggie's on-screen husband, Victor Kiriakis (John Aniston).
Plus, Brady Black (Eric Martsolf) and Xander Cook (Paul Telfer) brawl. Fans will also see Shawn Brady (Brandon Beemer) struggle with Victor's death. Elsewhere, Kate Roberts Brady (Lauren Koslow) gets a major shocker.
Days of Our Lives Spoilers – Suzanne Rogers' 50th Anniversary
DOOL spoilers for Friday, August 18 reveal that Rogers will celebrate playing Maggie for 50 years in the soap opera.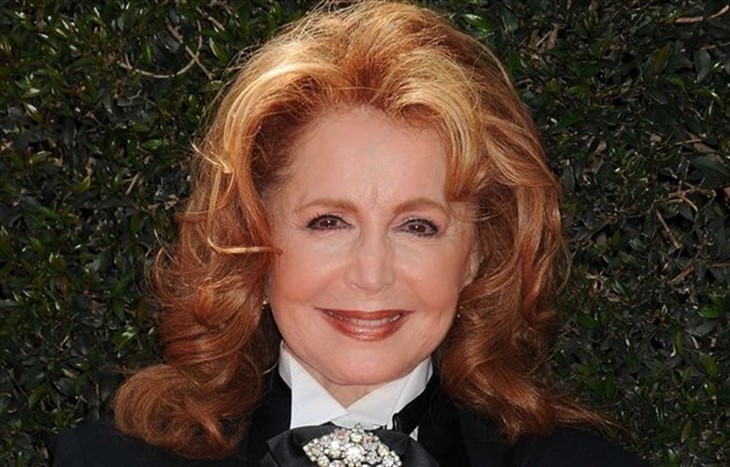 It is quite an accomplishment, especially since soap actors tend to come and go. Maggie has gone through quite a lot over the decades. So, fans will probably see a lot of flashbacks, including both good and bad memories.
DOOL Spoilers – Tragic Death Aftermath
Speaking of Maggie, she will completely fall apart in light of Victor's death. Maggie loved Victor dearly, even though their dynamic wasn't easily understood by many.
There is also Justin Kiriakis (Wally Kurth), Alex Kiriakis (Robert Scott Wilson), Brady, Xander and others. So many people in Salem will mourn, including those that were not Victor's biggest fans.
Despite Victor's evil deeds in the past, he loved his family. Victor didn't express his feelings well, but he did try to do what was best for his loved ones.
The only problem was that Victor usually didn't get permission and his schemes were well-intentioned by catastrophic.
Days of Our Lives Spoilers – Brady Black's Brawl
Days of Our Lives spoilers for Friday, August 18 reveal that Brady and Xander will both be grieving. While the two do share an embrace out of grief, expect the cousins to get violent.
READ THIS: Find out what happens next on Days Of Our Lives.
Brady and Xander will get into a violent fistfight. This most likely has to do with Chloe Lane (Nadia Bjorlin), although Victor's death will definitely be a factor as well.
DOOL Spoilers – Friday, August 18
In Friday's episode, fans can also expect Kate to be shocked by something. This might not be something but someone. Could Kate see Philip Kiriakis (John-Paul Lavoisier) back in Salem? Meanwhile, Shawn will struggle to cope after Victor's death.
Which storyline are you looking forward to seeing the most on Friday, August 18? What are your predictions for Maggie, Justin, Xander, Alex, Xander and Shawn?
What does the future hold for Brady, Chloe, Kate, Philip and the other characters? Share your thoughts in the comment section below.
Remember to keep watching the soap on Peacock to find out what happens next.
Be sure to catch up on everything happening with DOOL right now. Come back often for Days of Our Lives spoilers, news, and updates.