Days Of Our Lives Spoilers Wednesday, August 16: Gwen's Honeymoon Crasher, Chad's Apology To Alex, Gabi Investigates, Victor's Fate
Check out what is happening in Salem tomorrow!
Days Of Our Lives spoilers for Wednesday, August 16 reveals Leo Stark (Greg Rikaart) crashes Gwen Rizczech's (Emily O'Brien) honeymoon. Chad Dimera (Billy Flynn) apologizes to Alex Kiriakis (Robert Scott Wilson).
Gabi Dimera (Camila Banus) tries to find out Rachel Black's (Finley Rose Slater) secret. Victor Kiriakis' (John Aniston) fate is revealed.
Days Of Our Lives Spoilers – Gwen Rizczech Makes A Shocking Discovery
Days Of Our Lives Spoilers reveal that Gwen will go back to her honeymoon suite to find Dimitri Von Leuschner (Peter Porte) in his robe and Leo sneaking out of their room.
Gwen will certainly want to know what her husband and her best friend are doing in such a compromising position. Dimitri and Leo don't even like each other.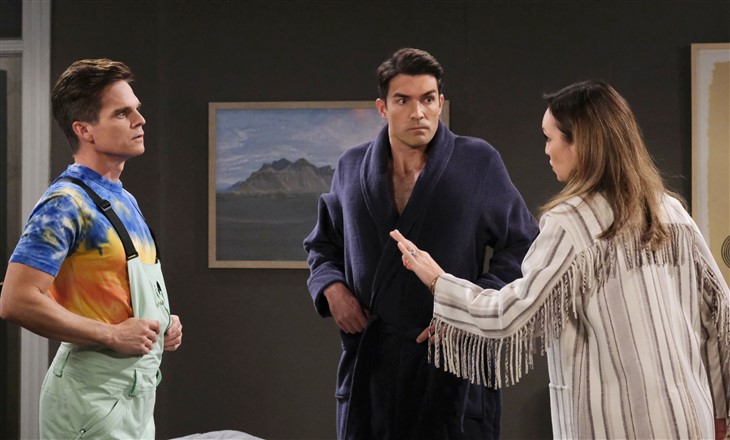 READ THIS: Find out what happens next on Days Of Our Lives.
Is Gwen putting things together in her head? Now that Gwen and Dimitri are married, he seems to be spending a lot of time with Leo.
Leo also has a new secret lover which he refuses to introduce to Gwen. Is Gwen starting to figure out that her marriage is a sham and Dimitri is using her to get his inheritance? Will Gwen finally learn the truth?
DOOL Spoilers – Chad Dimera Apologizes
Chad recently overstepped his bounds and gave Alex orders to stay away from Stephanie Johnson (Abigail Klein).
However, Stephanie was furious when Alex finally admitted what happened while refusing to work with her on a project for Basic Black. Will Alex accept Chad's apology or does he have more important matters on his mind?
Gabi learns that Rachel has a secret and will try her best to figure out what it is. Unfortunately, Gabi could be getting in way over her head since Dimitri's whole inheritance could be at risk.
Will Gabi find herself in the crosshairs of Dimitri or even Megan Dimera (Miranda Wilson)? Is Gabi putting her life at risk by snooping?
Days Of Our Lives Spoilers – Victor Kiriakis' Fate Revealed
It has been three days since Victor left Bo Brady (Peter Reckell) and Hope Brady (Kristian Alfonso) at the long-term car facility. Victor was expected to be home but no one had heard from him. Suddenly, the family is informed that Victor's plane has disappeared and that there was no flight plan because of Megan.
Now that the wreckage has been found, the Kiriakis family will be informed that there are no survivors. The Greek businessman has disappeared without a trace in the blink of an eye. Victor's family will begin mourning their loved one as the word begins to spread. Will the reason for the crash ever be discovered?
Be sure to catch up on everything happening with DOOL right now. Come back here often for Days Of Our Lives spoilers, news, and updates.