Days Of Our Lives Spoilers Friday, January 11: Chad Surprises Abigail, JJ Learns A Secret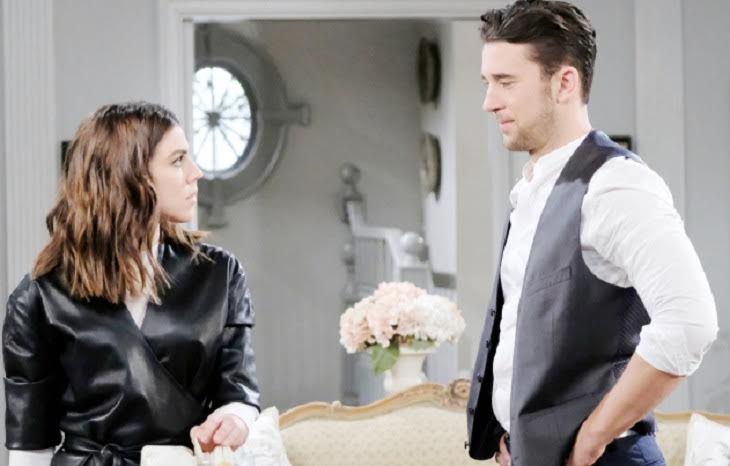 Days of Our Lives (DOOL) spoilers for Friday, January 11, 2019, reveals Chad (Billy Flynn) is determined to win back Abby (Kate Mansi) no matter what it takes.
Chad Surprises Abigail With A Special Dinner With Her Family
Chad has asked Julie (Susan Seaforth Hayes) to assist him in planning a special dinner for Abby. Chad as also asked for J.J. (Casey Moss) to help him to get Abby there. Will Chad invite all of Abby's family to the dinner or will it be an intimate dinner with the two of them and their children?
DOOL Spoilers – Brady And Chloe Share A Close Moment
Days of Our Lives' Brady (Eric Martsolf) and Chloe (Nadia Bjorlin) will share a close moment. Brady and Chloe have been joined at the hip since he and Eve (Kassie DePaiva) broke up and Eve is likely to comment on that.
Brady is all about Chloe raising Nicole's (Arianne Zucker) daughter as well, even though Nicole asked Eric (Greg Vaughan) to take care of her child. Will Brady and Chloe get back together or will Chloe end up with another Brady altogether?
#Elani is the ship we deserve. 😍 #DAYS
📸: @SalStowers pic.twitter.com/kMNe9VrS24

— Days of our Lives (@nbcdays) January 10, 2019
Days of Our Lives – Eric And Sarah Continue To Grow Closer
Days of Our Lives' Eric and Sarah (Linsey Godfrey) continue to grow closer. Sarah has been Eric's biggest supporter since Eric returned home from Nashville without Nicole. Will Sarah and Eric become a couple and try to raise Holly (Scarlett and Harlow Mallory) together? Will Nicole return to Salem and break up Eric and Sarah's relationship?
Sarah just got out of a bad relationship with Eric's brother Rex (Kyle Lowder). Will Eric break Sarah's heart as well when Nicole returns home? Will Sarah lose her connection to Holly as well?
Days of Our Lives Spoilers – J.J. Learns Haley Has A Secret
Days of Our Lives' J.J. learns that Haley (Thia Megia) has a connection to someone in town. It seems there is some connection between Haley and the d.a., Melinda Trask (Laura Kai Chen). What is their connection? Is Haley a relative of the d.a.? Is Haley on probation for a crime? Whatever their connection it seems the d.a. will issue a warning to Haley about her behavior.
Does the d.a. know about Haley's suicide attempt or is there more to the story? Could the d.a. know why Haley would want to kill herself or could she be the cause of Haley's mishap herself? Hopefully we will get some insight into Haley's character soon.