Days Of Our Lives Spoilers Thursday, January 10: Eve Busts Chloe And Brady, Eric's Big Decision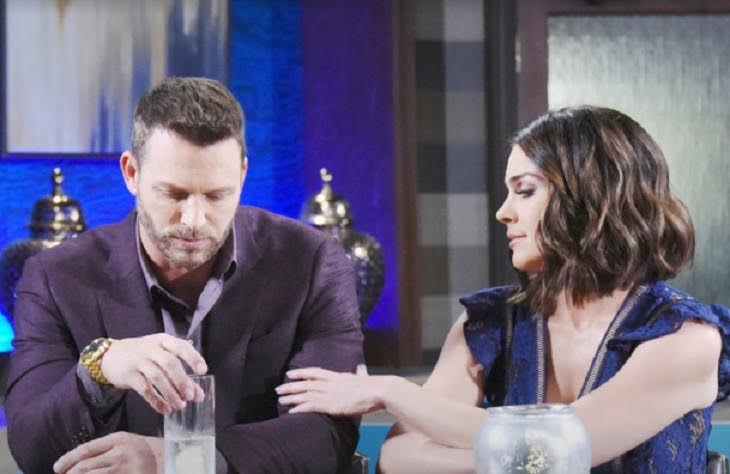 Days of Our Lives (DOOL) spoilers for Thursday, January 10, 2019, reveals, finding out about DOOL Ben (Robert Scott Wilson) and Claire's (Olivia Rose Keegan) alliance will be the last straw for Ciara (Victoria Konefal), and she will break up with Ben.
Days of Our Lives Spoilers – Ben And Ciara Break Up
Ciara has problems with the work Ben has done for Stefan, but she cannot believe he betrayed her by joining forces with Claire. Ciara will decide she needs a break and will leave town for a while. Is this the end for Ben and Ciara or will she come home with a new outlook?
J.J. Realizes Haley Is Keeping Something From Kayla
Days of Our Lives' J.J (Casey Moss) realizes Haley (Thia Megia) is hiding something from Kayla (Mary Beth Evans). Will Haley secret cost her job if she is found out? Will J.J. cover for Haley and put his job on the line as well?
Haley is already on Kayla's radar because of her attempted suicide, what does she have to hide now? Does Haley's secret have anything to do with the D.A and her rumored warning? Will Haley trust J.J. enough to confide in him and if so, is J.J. in a position to help Haley? Will Haley and J.J. continue to grow closer?
A rare photo of Xander with a shirt. 😂 #DAYS pic.twitter.com/k8pflqlr64

— Days of our Lives (@nbcdays) January 9, 2019
DOOL Spoilers – Eve Finds Chloe Comforting Brady
Days of Our Lives' Eve (Kassie DePaiva) considers Chloe (Nadia Bjorlin) to be her friend and is shocked to see her comforting Brady (Eric Martsolf). Eve is likely to rip into Chloe over hooking up with Brady even though they are friends at present. Will Eve and Chloe fight over Brady?
Will Chloe try to convince Eve that Brady still cares about her? Eve probably won't be open to hearing Chloe's side of the story and accuse her of being after Brady all along. Will Chloe and Eve's friendship survive this latest issue?
Days of Our Lives – Eric Reveals He's Decided Holly's Custody Case
Days of Our Lives' Eric (Greg Vaughan) has decided his next move about Holly's (Scarlett and Harlow Mallory) custody and reveals what he has decided to do. Justin (Wally Kurth) has made it plain to Eric that he is unlikely to get custody of Holly because he isn't a relative.
Justin has also pointed out that Nicole's (Arianne Zucker) letter appointed Chloe as Holly's guardian and Maggie (Suzanne Rogers) has chosen to go along with that letter. Will Eric chose to take his chances so he can raise Nicole's daughter? Will finding out that Xander (Paul Telfer) is alive give Eric hope that Nicole is too? Will Xander's survival make Eric more determined to raise Holly and protect her from him?