Days Of Our Lives Spoilers: Jennifer Puts Jack In The Hot Seat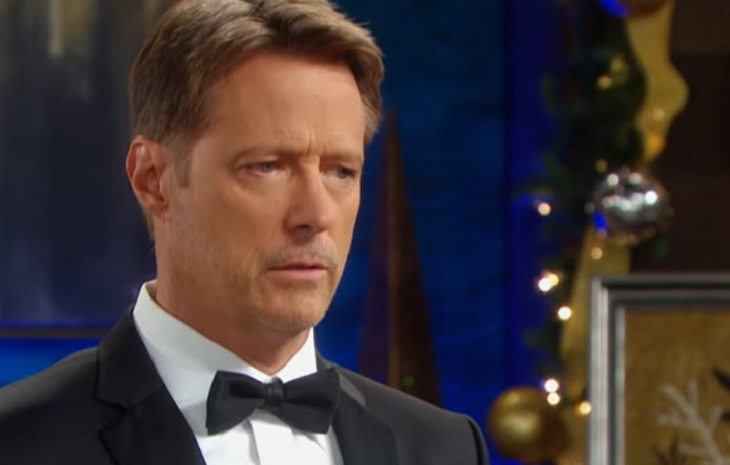 Days of Our Lives (DOOL) spoilers tease that Jennifer Horton (Melissa Reeves) will soon get the opportunity to go after Jack Deveraux (Matthew Ashford) and his newfound beliefs. Ever since Jack got pushed into running for mayor of Salem by Eve Donovan (Kassie DePaiva), he's been acting uncharacteristically. He's espousing all sort of political beliefs that Jennifer knows he never would have supported before Eve came along.
For example, Jack has suddenly taken a strong stance on undocumented immigrants, which is something that has shocked Jennifer and JJ Deveraux (Casey Moss). She knows that this is totally unlike Jack, and that Eve is encouraging him to support certain political ideologies just for the purposes of winning the election.
Jennifer desperately wants to get Jack away from Eve and talk some sense into him, but Eve is always around to cause trouble and control what Jacks thinks and says. Jennifer can barely get a moment alone with Jack to have a private conversation, thanks to Eve.
Days Of Our Lives Spoilers – Jennifer To Interview Jack As Mayoral Candidate
But according to Days of Our Lives spoilers, Jennifer will soon get a chance to take Jack on, and she'll do so in her professional capacity as a reporter. She'll interview Jack as a mayoral candidate, and she'll hammer him with hard-hitting questions. Jack may go into the interview a bit cocky and overconfident, but it seems that Jennifer will have the last laugh.
Jack will have to stand on his own two feet during the interview, without Eve pulling the strings behind the scenes. It seems that Jennifer will pounce and lay into Jack about his views, and she may even bring up some of the undesirable things that Jack did in his past.
Of course, Jack is running as a "clean slate" candidate due to his amnesia, but Jennifer could turn it around and make Jack's memory loss look like a big liability.
Days Of Our Lives Spoilers – Eve Will Get Her Hooks Back In Jack
Days of Our Lives spoilers say that Jennifer's interview will have a profound effect on Jack. Perhaps it will make him rethink some of his views, or even his decision to run for mayor in the first place.
But we suspect that Jack's post-interview feelings won't last for long, as Eve will get her hooks back into Jack and start driving the process once again.
Days of Our Lives News: Brandon Barash Officially Replaces Tyler Christopher As Stefan DiMera – First Air Date Revealed https://t.co/zt3lwdunpQ pic.twitter.com/UnimFa8vlV

— SOS/CTS/HH (@SoapOperaSpy) March 14, 2019
According to Days of Our Lives spoilers, Jack will co in his quest to become mayor of Salem and take down the incumbent Abe Carver (James Reynolds), so the drama between Jack, Eve, and Jennifer will certainly continue. But will Jennifer at least have succeeded in getting through to Jack at least a little bit during the interview?
As always, more detailed spoilers and a full collection of pictures for the week in question will appear here on Celebrating the Soaps, where there will be more clues and hints over exactly what's going on.
Read more Celebrating the Soaps news, spoilers, and gossip on our Days Of Our Lives homepage