Days Of Our Lives Spoilers: Will Marlena Flat-Line?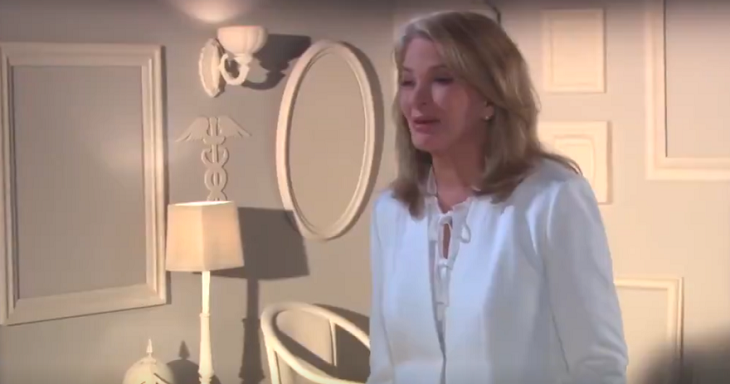 Days of Our Lives spoilers tease that Dr. Marlena Evans (Deidre Hall) will be in very serious condition indeed by the time her loving husband John Black (Drake Hogestyn) finds her unconscious in her office!
After Diana Colville Cooper (Judith Chapman) injected a box of macarons with penicillin, which is pure poison to Marlena, who has a severe allergy to it, she could even die. Of course, that was Diana's plan anyway, but will she succeed?
Days Of Our Lives – Diana Will Come Close To Succeeding
The weekly preview video for Days of Our Lives shows that at least Diana will come very close to succeeding. Marlena will possibly have a nightmare while unconscious, where she is in a bright room with the late Tony DiMera (Thaao Penghlis), who cautions her that once the soul has left the body, there's no going back.
Or, this could be indicating that she will flat-line and have an out-of-body experience. Other Days of Our Lives spoilers tease that she will encounter more than one old friend or relative who's passed on. Perhaps Tony and some of the others might give her some heavenly intel (well, at least we hope that's where she is) on situations affecting her life, and in particular, who may have tried to kill her.
Days Of Our Lives – Nurse Says Kristen DiMera Is Responsible
Other Days of Our Lives spoilers tease that a nurse, probably Shelly Santos (Alyssa Mann) who has gotten rather cozy with Diana, will say Kristen DiMera (Stacy Haiduk) did it. But Diana may have given her that story to tell, since her attempted frame of Haley Chen (Thia Megia) won't be believed by Eli Grant (Lamon Archey).
Days Of Our Lives Spoilers: Leo Offers His Services To Stefan – What Is He Up To? https://t.co/YYo4oxfK7J pic.twitter.com/x39dM3snJo

— SOS/CTS/HH (@SoapOperaSpy) March 14, 2019
Shelly's obviously not a perfect angel herself, having given Diana her work badge to get into the pharmacy! One spoiler teases that Tony will tell Marlena Kristen's current location, which may or may not be in the afterlife. Stay tuned to Days of Our Lives and keep checking Days of Our Lives spoilers frequently to see what happens!
Read more Celebrating the Soaps news, spoilers, and gossip on our Days Of Our Lives homepage