Days of Our Lives Spoilers: John Confronts Diana, Abigail Forgives Chad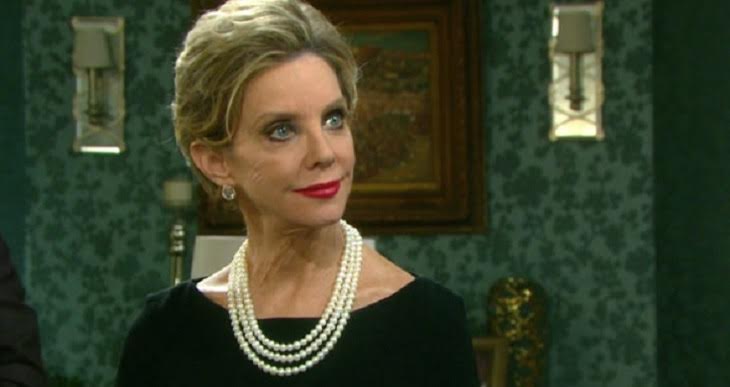 Diana's (Judith Chapman) back in town and John (Drake Hogestyn) just confirmed that she is Diana Colville. That only means trouble for John and other people in Salem. "Days of Our Lives" spoilers tease an upcoming confrontation between John and Diana.
Last week, John has learned that Diana Coooper is indeed Diana Colville. Yes, the woman he almost married when he thought he was Roman Brady. "Days of Our Lives" spoilers tease that after a chat with Diana, John will feel distracted, having the feeling that Leo (Greg Rikaart) might be his son. Spoilers also tease that he will confront Diana about his suspicions. Will he find out the truth about Leo's paternity? Or will Diana keep it from him and use it in her schemes?
Despite the distraction and the bad feeling, John will try to shower Marlena (Deidre Hall) with love on Valentine's Day. Let's hope nothing's going to spoil that, although spoilers tease Diana will stir things up for Marlena and John when she arrives in Salem.
Meanwhile, on a happier note, Abigail (Kate Mansi) finally forgives Chad (Billy Flynn). This week, they will become closer as they give support to each other amid Charlotte's kidnapping. This time of crisis, and their strong love for each other, lead to that moment of forgiveness.
On one hand, they remain emotional and they will offer a reward just to have Charlotte back safely to her family. Will they finally reunite with their daughter?
In the latest #DAYS, Hope and Eli have some questions for Ben!https://t.co/ZsCmioRrzb pic.twitter.com/XZ1bFAx7YK

— Days of our Lives (@nbcdays) February 13, 2019
Well, we hope it's a happy ending for the couple. Days spoilers reveal that they are leaving Salem to start a new chapter of their lives. Charlotte will be returned to them safe and sound, but her kidnapping is an event they would want to forget.
Spoilers also reveal that Abigail and Chad will remarry before they are sent off on February 21. Kate Mansi and Billy Flynn are leaving Days of Our Lives, so don't miss their last appearances
Be sure to tune into NBC's Days of Our Lives (DOOL) on Monday, February 11, 2019, to catch up no all the excitement happening right now in Salem. Check Celebrating the Soaps often for updates, news, rumors, and DOOL spoilers!