Days Of Our Lives Spoilers: Johnny Overhears A Telling Conversation, Confronts Stefan Over Drugging?
Days of Our Lives spoilers and updates tease Johnny DiMera (Carson Boatman) will overhear a telling conversation, and as a result, he'll confront Stefan DiMera (Brandon Barash) over his drugging. What Johnny doesn't know is that his father EJ DiMera (Dan Feurreriegel) has been drugging Stefan right back and he's onto him.
Days Of Our Lives Spoilers – He Wants To Do The Right Thing
Johnny wants to do the right thing, but the first vial he and Wendy Shin (Victoria Grace) found was in his father's office. EJ denied it was his but took it to be tested, and he and Nicole Walker (Arianne Zucker) realized they had been drugged by Stefan. Now, EJ's turned the tables and started drugging Stefan without his knowledge.
Johnny overhears a conversation, likely between Stefan and Gabi Hernandez (Camila Banus) and finds out Stefan's been drugging his father. Johnny decides he has to have a serious talk with his uncle Stefan and decides to talk to him alone.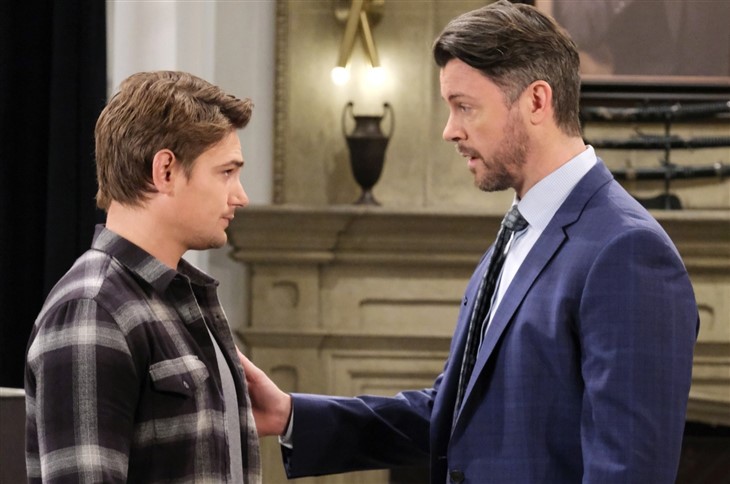 DOOL Spoilers – What Is Going On?
Johnny tells Stefan what he overheard and wants to know what is going on-this sibling rivalry has to stop, brother shouldn't be against brother. But then he and his twin sister Allie Horton (Lindsay Arnold) didn't get along all that well either, she didn't even say goodbye when she moved to New Zealand!
Johnny says his dad thinks Stefan is the one on the drugs and that gets Stefan to thinking that EJ figured it out and he's been drugging him. Johnny presses Stefan to work things out with his dad and quit trying to sabotage each other-Nonno wouldn't approve, the DiMeras should work together for a common goal. There are so many things that are coming between them, and so many things that need to be fixed.
Days Of Our Lives Spoilers – EJ And Stefan DiMera's Sit Down
After Johnny's insistence, EJ and Stefan sit down and lay everything on the line, finally talking things out and each admitting to drugging the other one. Stefan shares with EJ what Johnny told him about their father not approving of their actions, and EJ admits he's right.
Stefano DiMera (Joseph Mascolo) would have wanted them to work together for the DiMera good, even if what they're working on may or may not be good!
They finally agree to act like brothers and make an effort to get along, not allowing their egos to get in the way of family or the family business. There's a new day at DiMera, and a new way of relating between EJ and Stefan.
Be sure to catch up on everything happening with DOOL right now. Come back here often for Days Of Our Lives spoilers, news, and updates.