Days Of Our Lives Spoilers: Johnny Warns Stefan, Will He Catch On To EJ's Plan?
Days of Our Lives spoilers indicate that Johnny Dimera (Carson Boatman) will warn Stefan Dimera (Brandon Barash) that he knows what he has been up to. Will Stefan catch on to the fact that EJ Dimera (Daniel Feuerriegel) has turned the tables on him?
Days Of Our Lives Spoilers – EJ Dimera Claims Stefan Dimera Is Using Drugs
Days Of Our Lives spoilers reveal that EJ claims that Stefan has been using drugs. However, the truth is that Stefan has been drugging EJ trying to get him kicked out of Dimera Enterprises. EJ has caught on to what Stefan is doing and has turned the tables on him. EJ and Nicole Walker (Arianne Zucker) are working together to take him down.
Johnny and Wendy have figured out that EJ and Nicole could be working together. Johnny also knows that his father and Nicole both were sick at one point. Johnny and Wendy could figure out that Stefan is the one who started drugging EJ but does Stefan deserve to be drugged after he has already been brainwashed several times?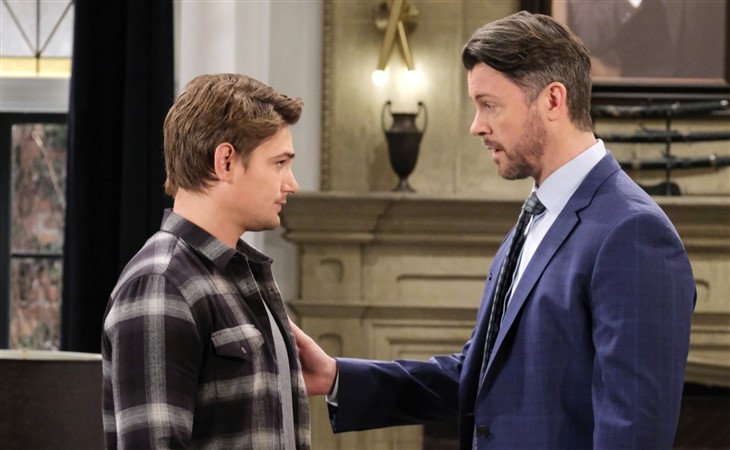 DOOL Spoilers – EJ Dimera Could Have Helped Stefan Dimera Before
DOOL spoilers say EJ had the opportunity to help Stefan when he first came back. However, instead of helping his brother, EJ covered up the fact that he had been brainwashed. EJ and Stefan have the same goal, to run Dimera alone. Johnny and Wendy know that EJ started this so warning Stefan would be a great thing to do. Stefan deserves a heads-up when it comes to EJ. What if EJ makes sure Stefan gets caught with drugs on him at work?
Dimera has a no-tolerance policy when it comes to drugs. If EJ truly wants to get rid of Stefan, all he has to do is manage for someone to find the drugs on Stefan. However, EJ is trying to make it look like Stefan is on drugs before he reports that. Will Johnny's warning be enough to prompt Stefan to halt his plans and get rid of the drugs?
Days Of Our Lives Spoilers – The Dimera Brothers Must Team Up
Although Stefan and EJ have been out to get each other, the two of them are going to have to team up against another threat. Perhaps their sister Megan Hathaway (Miranda Wilson) is planning a corporate takeover as well as everything else she has going on. After all, Megan is out for revenge against anyone she thinks harmed Stefano Dimera (Joe Mascolo).
Megan could feel that Susan Bank's (ex-Stacy Haiduk) nor Vivian Alamain's (Louise Sorel) son should be running Dimera at all. Is Megan the threat that comes after Dimera or could the Shin family be the ones trying to take over? No matter who the threat is, hopefully, the Dimera brothers will pull together instead of sabotaging each other.
Be sure to catch up on everything happening with DOOL right now. Come back here often for Days Of Our Lives spoilers, news, and updates.