Days Of Our Lives Spoilers: Megan Hathaway Will Be The DiMera Child That Honors Stefano's Legacy
Days of Our Lives (DOOL) spoilers suggest that Megan Hathaway (Miranda Wilson) has some mighty big plans on the horizon. She recently hinted that she's not only interested in taking over DiMera Enterprises but the world. With that being said, it's clear that Hathaway may be the one DiMera child to finally inherit Stefano DiMera's (Joseph Mascolo) legacy of terror.
Days Of Our Lives – Megan Hathaway Wants To Be The Girl With The Most Cake
DOOL spoilers tease some major within the DiMera mansion, as all the members of the family scramble for control of DiMera Enterprises.
Unlike the others in the household, Megan has tremendous life goals. She not only wants Bo Brady (Peter Reckell) by her side, but she has her eye on her father's company, and global domination. Talk about living your best life, right?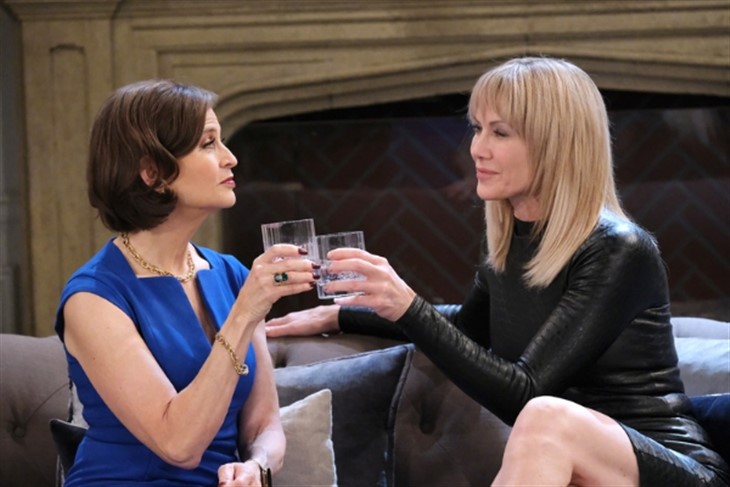 Still, unlike her other siblings, she's focused on her dreams and will not allow herself to be distracted.
DOOL Spoilers – Other DiMera Siblings Have Tried & Failed
Stefano has quite a number of living children right now, all that lackluster when it comes to being a good villain. Tony DiMera (Thaao Penghlis) and Chad DiMera (Billy Flynn) are as nice as a DiMera can get; even EJ DiMera (Daniel Feuerriegel) and Stefan DiMera (Brandon Barash) walk a fine line between "good" and "evil" most days.
In fact, the two are merely focused on gaining power at DiMera Enterprises and are a shadow of their former selves when it comes to scheming and trying to ruin people's lives. Unlike Stefano (and Megan for that matter), they are pretty decent guys, who play dirty when it comes to their father's company (once in a while).
Then there's Kristen DiMera (Stacy Haiduk). She's as manipulative as they come; however, she's been far too distracted with Brady Black (Eric Martsolf) to think about DiMera Enterprises.
She can't even control her young daughter Rachel Black (Finlay Rose Slater), let alone a company. So, there's certainly something "different" about Megan. She may end up being the one DiMera child to truly carry on her father's legacy, in the end.
Will Megan end up making her father proud and carrying his reign of terror? Share your comments below! Tune in to the popular Peacock soap each day to see what happens next and visit this site often for the latest Days of Our Lives updates, spoilers, and news.