Days Of Our Lives Spoilers Monday, February 13: Jack & Jennifer's War, Leo's Bomb, Alex Hides
Days of Our Lives spoilers for Monday, February 13 reveal that Jack Deveraux (Matthew Ashford) and Jennifer Horton Deveraux (Cady McClain) face off against Gwen Rizczech (Emily O'Brien) and Xander Cook (Paul Telfer). Meanwhile, Leo Stark (Greg Rikaart) drops a bomb while Alex Kiriakis (Robert Scott Wilson) tries to hide from Chanel Dupree (Raven Bowens).
Days Of Our Lives Spoilers – Jennifer Horton Deveraux's Return
DOOL spoilers reveal that Jennifer came home to surprise Jack for Valentine's Day. However, Jennifer had no idea that she will immediately be entangled in blackmail. Gwen promised that she wouldn't expose Jennifer as the driver who hit her. Jennifer ended up going to rehab and getting sober again. So, this is supposed to be a heartwarming homecoming.
DOOL Spoilers – Gwen Rizczech's Revenge
However, Jack must have forgotten about the family secret. Now Gwen has told Xander and Leo all about it. Then, Gwen went to confront her father. Jack hadn't changed his mind, so Gwen used Jennifer's secret crime to get The Spectator.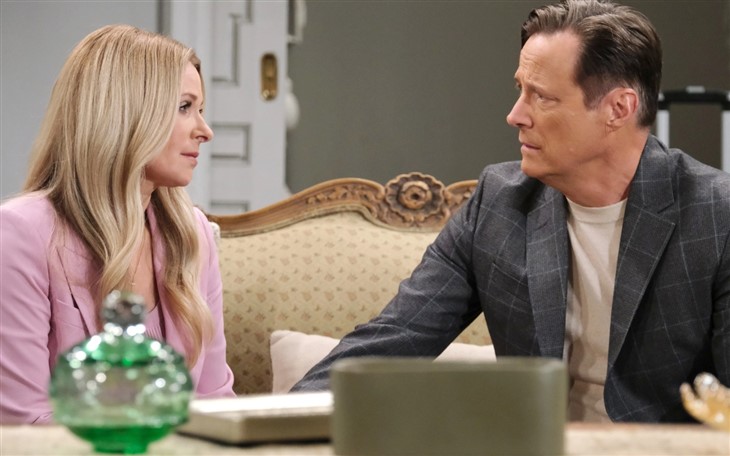 Gwen is hurt right now, which is why she is targeting Jack and Jennifer. Jack might not be able to reason with Gwen. However, could Jennifer be the one to reason with the troubled young woman? If so, Gwen will have to stop Xander and Leo, which might be easier said than done.
Days Of Our Lives Spoilers – Leo Stark's Bombshell
Days of Our Lives spoilers for Monday, February 13 reveal that Leo will drop a bombshell on Sonny Kiriakis (Zach Tinker). This bombshell is probably that he is now working at The Spectator.
Sonny will know that this makes no sense. So, could Sonny talk to Jack and Jennifer to find out what is really going on?
Days Of Our Spoilers: Monday, February 13
On Monday, February 13, expect Chanel to return home to make up with Allie Horton (Lindsay Arnold). However, Alex is forced to hide when Chanel suddenly walks in. Will Chanel find Alex hiding in Allie's apartment? How will Allie explain this to Chanel?
Fans can also expect Wendy Shin (Victoria Grace) to be torn about Johnny DiMera (Carson Boatman). However, Gabi Hernandez (Camila Banus) steps in to give Wendy some advice. Will it be the right advice, though?
Which storyline are you looking forward to seeing the most on Monday, February 13? What are your predictions for Jack, Jennifer, Xander, Gwen, Leo and Sonny? What does the future hold for Allie, Alex, Chanel, Johnny, Wendy and Tripp Johnson (Lucas Adams)? Share your thoughts in the comments section below. Remember to keep watching the soap on Peacock to find out what happens next.
Be sure to catch up on everything happening with DOOL right now. Come back often for Days of Our Lives spoilers, news, and updates.