Days of Our Lives Spoilers Monday, January 21: Victor Makes Brady An Offer, Sarah And Xander Hook Up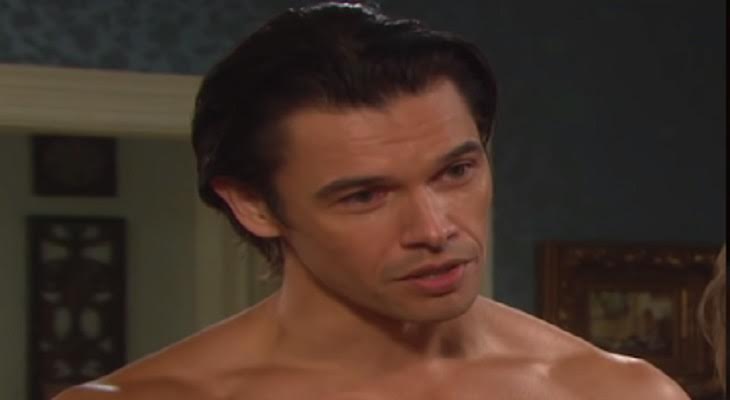 Days of Our Lives (DOOL) spoilers for Monday, January 21, 2019 reveals Rex (Kyle Lowder) will confess to Sarah (Linsey Godfrey) that he slept with her sister Noelle and this sends Sarah into a downward spiral. It's bad enough that Rex had a child with Mimi (Farah Fath) and admitted to cheating with other people.
Sarah believes Rex told her the whole story when he confessed after the baby reveal. The knowledge will blindside Sarah that he betrayed her with her sister. Sarah will try to sleep with Eric (Greg Vaughan) who wants her but not for revenge. Eric's rejection will lead to a bigger mistake.
DOOL Spoilers – Victor Makes Brady An Offer He Can't Refuse
Days of Our Lives' Victor (John Aniston) wants to bury the hatchet with Brady (Eric Martsolf). Victor also wants to keep Xander (Paul Telfer) out of Titan. Victor will make Brady an offer he can't refuse, and Brady will become head of Titan. Will this be the end of Brady and Victor's feud or will this give Brady and Victor one more thing to fight over. Victor tries to control Brady, and that is what caused the last break. Has Victor truly learned his lesson?
What does the future hold for Gabi Chic? #DAYS pic.twitter.com/ZUNx6CZV6T

— Days of our Lives (@nbcdays) January 18, 2019
Sarah And Xander Hook Up On Days of Our Lives
Days of Our Lives' Sarah will have a few drinks and approach Eric for sex. Eric rejects her, not because she's not attracted to her but because he wants her to be sober if they have sex. Hurt by both Eric's rejection and Rex's confession, Sarah wants to hook up with someone, and unfortunately, that will end up being none other than Eric's enemy Xander Cook. In the morning, Sarah will regret this hookup, but Eric will be furious. Can Eric and Sarah get past this error in judgment?
Days of Our Lives Spoilers – Xander Attempts To Trick Leo
Days of Our Lives' Xander will lead Leo (Greg Rikaart) to believe he is going to sleep with him to seal their partnership. However, Leo will wake up alone after thinking he had a great night with Xander and will realize that something doesn't add up. Will Xander get Leo drunk or even drug him to get out of sleeping with him?
Xander has always been underhanded, and if Leo catches him in bed with Sarah, it will certainly put an end to any deal they have brokered. Is Leo's latest quest too smart to get caught in Leo's trap?