Days of Our Lives Spoilers Monday, January 28: Xander's Shady Backup Plan, Haley's Secret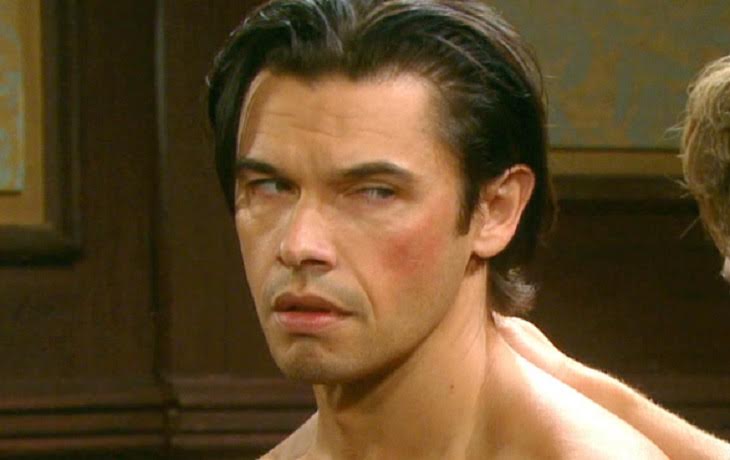 Days of Our Lives (DOOL) spoilers for Monday, January 28, 2019, reveals Xander (Paul Telfer) has lost the bid for CEO of Titan and will be in need of money. However, Xander has a backup plan.
DOOL Spoilers – Xander Has Leverage Over Eve
Xander helped Eve (Kassie DePaiva) to get her hands on Jack Deveraux (Matthew Ashford), and she gave him information on Dimera enterprises. Does Xander also know that Eve has Rolf's (William Utay) diary with the formula that could give Jack his memory back and could that be the leverage Xander needs to get what he wants from Eve?
Days of Our Lives Spoilers – Marlena Counsels Will
Days of Our Lives' Will (Chandler Massey) has been upset for some time over Sonny Kiriakis (Freddie Smith). When Will got his memory back, he wanted to reunite with Sonny, but circumstances have not permitted that so far.
Now Sonny is married to Leo (Greg Rikaart) and still cannot be with Will. Marlena (Deidre Hall) will counsel Will and try to reassure him but is Will beyond being consoled by now? It seems the harder they try, the less they accomplish on a reunion and things seem to keep getting worse.
Ciara is taken captive! Watch Days of our Lives, weekdays on NBC. #DAYS pic.twitter.com/ZyuAnYhMH6

— Days of our Lives (@nbcdays) January 25, 2019
Days of Our Lives – Haley's Is An Undocumented Immigrant
Days of Our Lives' Haley (Thia Megia) has finally opened up to J.J. (Casey Moss)about the secret that Melinda (Laura Kai Chen) has warned her cannot get out. Haley is an undocumented immigrant, and that could get Melinda, the former D.A. into trouble. Melinda has plans to become Salem's new mayor, and she would certainly not win as mayor is this information was exposed.
Will the truth about Haley cause Melinda to lose her bid for mayor? Will J.J. offer to marry Haley to keep her safe if it does?
Days of Our Lives Spoilers – Jack And Abe Are Surprised
Days of Our Lives Jack and Abe (James Reynolds) are surprised that Melinda has joined the race for mayor and both try to find enough information to discredit her as a candidate. Jack has suggested using Melinda's conviction record against her and Abe will probably do the same. However, Jack needs financing, and that could be a problem.
The truth about Haley would certainly discredit Melinda and J.J. could accidentally give Jack the ammunition he needs. Will Jack betray his son to win the bid for mayor? Will J.J. ever forgive Jack if he does? Someone has to win, and Jack feels no connection to his family, using them is not a far fetched idea.
Read more Celebrating the Soaps news, spoilers, and gossip on our Days Of Our Lives homepage