Days of Our Lives Spoilers Monday, October 2: Frenemies Face Off, Vivian's Leverage, Flingsters Flip
Days of Our Lives spoilers for Monday, October 2 reveal that Gwen Rizczech von Leuschner (Emily O'Brien) and Leo Stark (Greg Rikaart) face off.
Days of our Lives Spoilers Highlights
Stefan DiMera (Brandon Barash) and Gabi Hernandez-DiMera (Camila Banus) owe Vivian Alamain (Louise Sorel).
Meanwhile, Jada Hunter (Elia Cantu) slams Shawn Brady (Brandon Beemer). Plus, Belle Brady (Martha Madison) turns to Marlena Evans (Deidre Hall) for support. Keep reading to find out what is coming up in the Peacock soap opera.
Days Of Our Lives Spoilers – Leo Stark's Realization
DOOL spoilers for Monday, October 2 reveal that Gwen finally lost her temper with Leo. Gwen has known for quite some time that Leo and Dimitri von Leuschner (Peter Porte) are sleeping together. However, Gwen plans on getting her sweet revenge.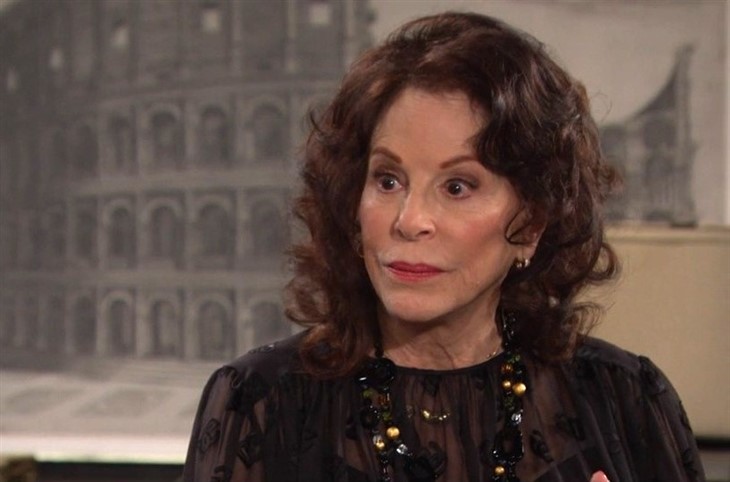 In Friday's episode, fans watched as Gwen lost her cool with Leo. Now, Leo still thinks that his secret is safe. At the same time, Leo has been feeling guilty about betraying his BFF. So, expect Gwen to lay it all on the line with Leo in Monday's episode.
DOOL Spoilers – 'Stabi' Gratitude
On Monday, October 2, Dimitri planned to kill Stefan and Gabi. While Stefan tried to protect Gabi with his back, a gunshot rang out. However, Stefan and Gabi were not struck. Instead, Vivian showed up and shot Dimitri.
Even though Vivian is Stefan's mother, fans know that she will use this situation to her advantage. It is teased that "Stabi" will be grateful to Vivian. However, Vivian will want something in exchange.
READ THIS: Find out what happens next on Days Of Our Lives.
Days Of Our Lives Spoilers – Jada Hunter's Rage
Days of Our Lives spoilers for Monday, October 2, fans can expect Jada and Rafe Hernandez (Galen Gering) to return from London. When Jada rolls back into Salem, she has a confrontation with Shawn.
Jada can't believe that Shawn and Talia Hunter (Aketra Sevillian) slept together, especially after everything Belle did to the troubled young woman.
MUST READ – Days Of Our Lives Spoilers: Alex Blown Away After Paternity Reveal, Vivian Manipulates His Trust…
DOOL Spoilers – Monday, October 2
That will lead to Shawn begging Jada to keep quiet. Shawn explains that he does plan on telling Belle the truth.
Shawn just needs to figure out when and how. Jada ends up agreeing, but wills he end up regretting this decision?
Meanwhile, Belle will turn to her mother for support. Is there any way for "Shelle" to survive this new obstacle?
Which storyline are you looking forward to seeing the most on Monday, October 2? What are your predictions for Vivian, Stefan, Gabi, Gwen and Leo? What are your predictions for Shawn, Belle, Marlena, Jada, Talia and the other Salem residents?
Share your thoughts in the comment section below. Remember to keep watching the soap on Peacock to find out what happens next.
Be sure to catch up on everything happening with DOOL right now. Come back often for Days of Our Lives spoilers, news, and updates.