Days Of Our Lives Spoilers: Nicole's Baby Emergency, Sloan's Redemption & Sacrifice?
Days of Our Lives spoilers reveal that Nicole Walker's (Arianne Zucker) baby will turn out to be Eric Brady's (Greg Vaughan) child after all. Unfortunately, it seems there may be a medical emergency with the baby. Will Sloan Petersen's (Jessica Serfaty) baby not survive but save Eric's child with Nicole?
Days Of Our Lives Spoilers – Sloan Petersen Lied About The DNA Test
Days Of Our Lives spoilers reveal that Sloan wanted a child with Eric because she used her DNA instead of Eric's in Nicole's paternity test. However, Sloan didn't realize that the truth would come out much sooner than she had imagined possible. Sloan also believes that the fact she is also pregnant will save her relationship with Eric.
Sloan wasn't about to allow Nicole a connection to Eric through that baby. Sloan also didn't believe there would be a reason for another DNA test this soon. However, EJ Dimera (Dan Feuerriegel) and Nicole find out that Eric is the baby's father instead of EJ. Once this happens, Eric will be furious after learning what Sloan has done.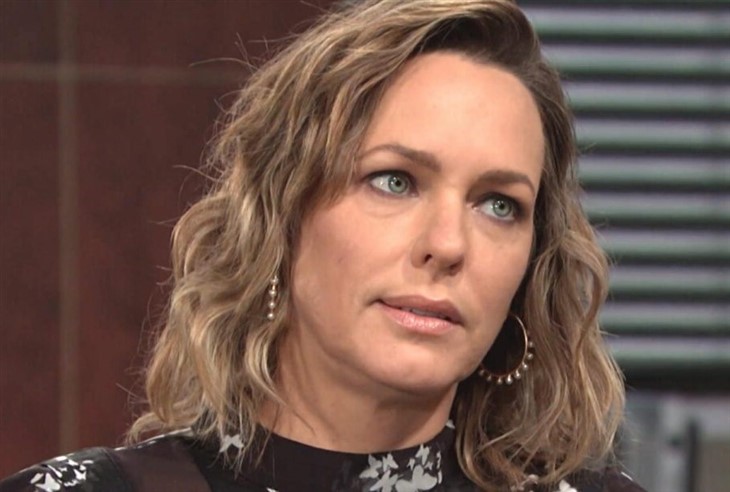 DOOL Spoilers – Nicole Walker's Child Could Have Problems
Nicole has never been able to carry a child to term before. Also, Eric was born with a heart condition that could easily require a heart transplant or stem cells. With Sloan's baby being Eric's, it could very well be a match for Nicole's child. Nicole and Sloan's children would be close enough in age for one of them to save the other.
Sloan's child has the same chance of having Eric's heart defect as Nicole's child does. This means that either woman could lose their child before it is born. Will Sloan lose her baby but end out donating tissue to save Nicole's child? Eric would certainly push for this if Sloan's baby passed away and Nicole's child needed something.
Days Of Our Lives Spoilers – Will Sloan Petersen Be Redeemed By Her Sacrifice?
Eric will not be happy with Sloan when the truth is exposed. Nicole will certainly like Sloan even less than she does now. However, saving their baby's life may go a long way to redemption. If Sloan can overlook her pain and save Nicole's child, she could not be much more selfless than that. Will this be what happens with the two children?
Of course, Sloan could be petty and try not to help but Eric may be able to argue with that. Sloan may truly feel sorry for her actions from before as well. This does not mean that Eric and Nicole will be instantly forgiving unless Sloan's baby does save Nicole's baby's life. Will Sloan ever be redeemed after what she has done?
Be sure to catch up on everything happening with DOOL right now. Come back here often for Days Of Our Lives spoilers, news, and updat