Days Of Our Lives Spoilers: The Baby's Medical Emergency Has Sloan Petersen Spilling All
Days of Our Lives (DOOL) spoilers indicate some drama ahead for Sloan Petersen (Jessica Serfaty). She's about to steal Nicole Walker's (Arianne Zucker) baby and pawn it off as the adopted newborn for her and Eric Brady (Greg Vaughan); however, will a medical emergency place a wrench in her plans?
Days Of Our Lives Spoilers – The Baby Boy Is A Preemie
Days spoilers note that Nicole's baby is a preemie. While this is the land of Salem, where anything and everything is possible, at the end of the day there was a reason Ms. Walker allowed Dimitri von Leuschner (Peter Porte) to separate her from her baby and that's because the little one required immediate medical attention.
Still, the infant did not receive this, right away. Dimitri was too scared to drop the baby off at the hospital because EJ DiMera (Dan Feuerriegel) and Rafe Hernandez (Galen Gering) were in the waiting room, and being a criminal on the run, he did not want to get caught. As such, he dropped the baby off at Sloan's apartment and she ran with an idea.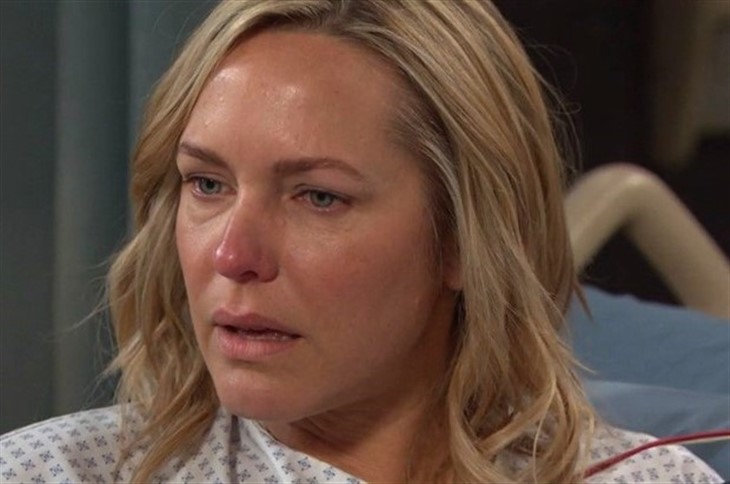 DOOL Spoilers – Baby Medical Emergency On The Horizon?
It looks like Sloan will get away with stealing Nicole's baby in the interim, as she and Melinda Trask (Tina Huang) have seemingly organized things well.
Still, as the baby is a preemie, complications might not be noticeable right away but can emerge as the days and weeks go by.
What if the little one has a condition that requires a transplant of some sort, which can only be provided by a mother or father?
ALSO READ: DOOL Spoilers: Vivian's Revenge, Set Up Gabi For Li's Murder?
Regardless of how cold-hearted she is, Sloan will bond with Nicole and Eric's baby. If the little one falls ill, her momma bear instincts will kick in and she'll do all she can to save the child, even if that means cutting herself out of his life by telling the truth.
Will Sloan end up turning herself in? Share your thoughts in the comment section.
Tune into the popular Peacock soap daily to see what happens next and visit this site regularly for the best Days of Our Lives updates, spoilers, and news.