Days Of Our Lives Spoilers Thursday, January 3: Gabi's Fate Revealed, Eve's Partner Exposed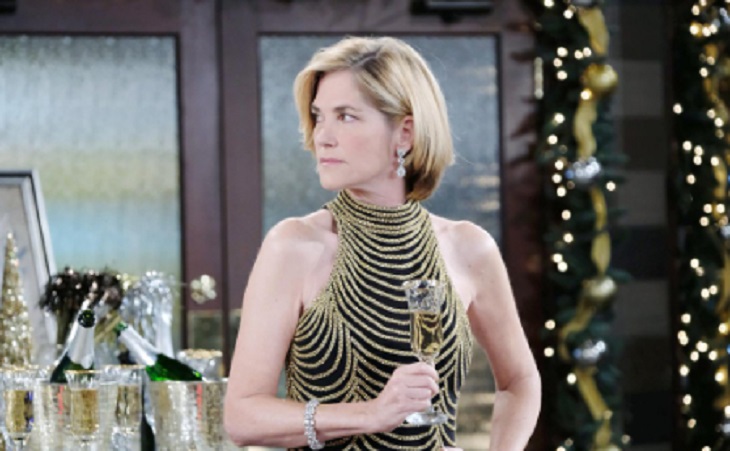 Days Of Our lives spoilers (DOOL) for Thursday, January 3, 2018, reveals Jennifer (Melissa Reeves) is still reeling over Jack's (Matthew Ashford) return from the dead. Jennifer can't believe that Jack doesn't remember her and the fact that he's relying on Eve (Kassie DePaiva) is certainly an issue.
Jennifer Tries To Get Through To Jack
Jennifer will try to talk to Jack to get through to him, and when that doesn't work, she may try a radical move. A kiss worked to wake Sleeping Beauty, will it bring back Jack's memory?
Eve's Partner In Crime Is Revealed
Eve isn't working alone of course, and her partner in crime is revealed to be none other than Xander (Paul Telfer). Fans assumed he was in the warehouse when it exploded as well as Nicole (Arianne Zucker), but the ominous necklace led fans to assume that Nicole escaped somehow.
The seasoned soap viewer usually jumps to conclusions, and this one was that Xander had Nicole and wanted Eric (Greg Vaughan) to believe she died. Xander's plan worked because even Holly (Harlow and Scarlett Mallory) believes her mother isn't coming home. Eve will give Xander a flash drive to hold onto, does it contain Jack's memories? What other evil deads will Eve and Xander work together to accomplish?
Abigail Helps Decide Gabi's Fate
Gabi (Camila Banus) has turned herself in for everything she did to gaslight Abby (Kate Mansi) and changing Charlotte's paternity test results. Abby will help to decide Gabi's fate in this. Abby is very upset with Gabi because she has put her through hell and back over the past few months. Gabi had even cost Abby her marriage and tried to steal her family.
.@Bryan_Dattilo shares his #NewYears resolution with us. 😂 What's yours? #DAYS pic.twitter.com/REYa9nwhgW

— Days of our Lives (@nbcdays) January 1, 2019
However, Abby is not an uncaring person, and she will consider Gabi's daughter in this situation. Ari (Sydney and Harper Udell) has been separated from her mother more than any child deserves to be and Abby won't be the reason she is hurt anymore. Abby will refuse to press charges for Ari's sake but don't look for her and Gabi to be friends any time soon if ever.
Chad Gets Julie's Advice About Abby
Chad (Billy Flynn) knows he messed up by not believing Abby when she tried to tell him what was going on with Gabi. Abby wants nothing to do with Chad. Abby feels betrayed and hurt and wants to get on with her life, without Chad.
Chad feels bad that he didn't believe his wife and that he hated his daughter and wished she had never been born. Chad will turn to Julie (Susan Seaforth Hayes) for help because Jennifer is certainly not the person to ask right now. Will Julie be able to help Chad win his wife back? Will Abby ever forgive Chad for the hell she has been through over this?