Days of Our Lives Spoilers Thursday, July 27: Marlena's Mission, Lani Exits, Abe Awakens, Dimitri Busted
Days of Our Lives spoilers for Thursday, July 27 reveal that Marlena Evans (Deidre Hall) visits Whitley King (Kim Coles). Lani Price-Grant (Sal Stowers) exits as Abe Carver (James Reynolds) wakes up.
Plus, Gwen Rizczech (Emily O'Brien) suddenly returns only to find Dimitri von Leuschner (Peter Porte) and Leo Stark (Greg Rikaart) together. Keep reading to find out what is coming up in the CBS soap opera.
Days Of Our Lives Spoilers – Marlena Evans' Mission
DOOL spoilers for Thursday, July 27 reveal that Marlena will pay a visit to the Salem Police Department. After the apartment showdown, Whitley had a break from reality. However, police officers were aware of Whitley's mental health crisis. Marlena was aware of it too and since she used to be a patient, the psychiatrist will want to help Whitley in any way she can.
DOOL Spoilers – Lani Price-Grant Exits
While Marlena is talking to Whitley, Lani gets ready to say goodbye. Lani was only temporarily released from prison to attend Abe's funeral. However, Jerry Prentiss (Terrell Ransom Jr) blurted out the truth about Whitley and Abe to Lani. Then, Lani went searching for Abe and found him. Unfortunately, Whitley showed back up and drugged Lani.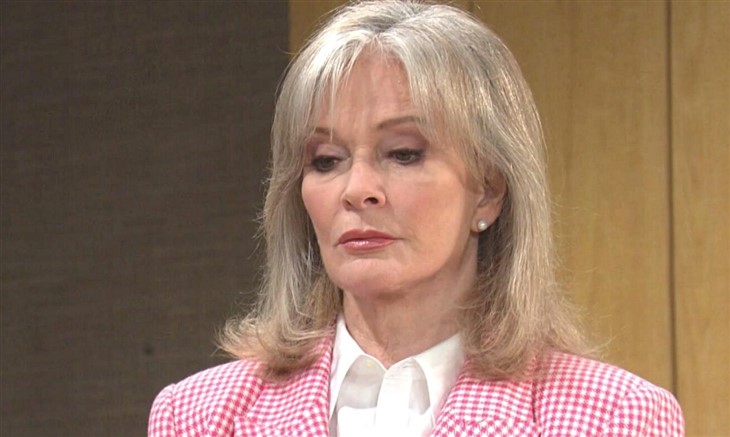 Once Lani was hospitalized and resuscitated, she begged Eli Grant (Lamon Archey) to save Abe. Now that Lani is forced to go back to prison to serve the remainder of her sentence, there is a miracle with Abe.
Days Of Our Lives Spoilers – Abe Carver Awakens
Days of Our Lives spoilers for Thursday, July 27 reveal that Abe will wake up. This will be a great moment and it is teased Paulina Price (Jackee Harry) will be grateful.
However, Paulina isn't about to let Whitley get away with what she's done. It is hinted that after Marlena's visit, Whitley will have to face Paulina.
Meanwhile, Abe will wake up. Will Abe be the same or could there be complications from his traumatic experience? Plus, will Abe finally remember everything and everyone he cares about?
DOOL Spoilers – Thursday, July 27
On Thursday, July 27, fans can also expect Gwen to suddenly return to make a discovery. Just as Gwen is getting ready to walk down the aisle with Dimitri, she finds him with Leo. This will be a double betrayal for Gwen. After all, Leo is supposed to be her best friend.
So, what will happen now that Gwen knows the truth about Dimitri? Will Gwen marry him anyway? It certainly is possible. With Dimitri standing to inherit a massive amount of money, he will likely convince Gwen to keep his scandalous secrets… but for how long and at what price?
Be sure to catch up on everything happening with DOOL right now. Come back often for Days of Our Lives spoilers, news, and updates.
For more about what's happening on your favorite soaps and more ways to connect with us, join the conversation on our YouTube Page or our Facebook Page, check out our Twitter feed, look for an update on our Instagram, follow us on Threads , Always stay up-to-date with us on Google News, or drop us an e-mail HERE! See you there!