Days of Our Lives Spoilers Thursday, November 8: John And Marlena Get Married – Susan Threatens Sami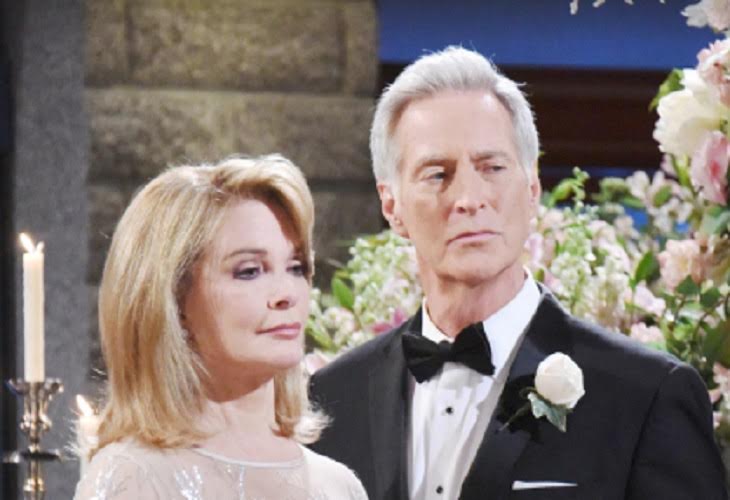 Days of Our Lives (DOOL) spoilers for Thursday, November 8, 2018, reveals Sami (Alison Sweeney) has found a clinic that is willing to take E.J. (formerly James Scott) and help with his recovery.
Susan Threatens Sami
Susan (Stacy Haiduk) realized that Sami had no intention of telling her about E.J. and kidnapped him. Susan will threaten Sami with a scalpel to get the truth about E.J. out of her. Will Sami and Susan be able to make amends so that both of them can be close to E.J. to help with his recovery?
John and Marlena Get Married
Finally, after Days of Our Lives' Marlena's (Deidre Hall) near-death experience and John's (Drake Hogestyn) marriage to Hattie (Deidre Hall), John and Marlena will finally tie the knot. John and Marlena's wedding was scheduled weeks ago, but Xander (Paul Telfer) shot her and then she had an infection that almost killed her.
Step into our office. 😜 #DAYS
📸: @kristianalfonso pic.twitter.com/iVNxJr9tcr

— Days of our Lives (@nbcdays) November 7, 2018
If John and roman hadn't switched places with Hattie, Marlena would be dead. This ceremony won't be a big as the last one, but John and Marlena finally get married, and that is the point. Of course, we know it won't be happily ever after, because nothing in Salem ever is.
Abigail Turns the Tables on Kate
Days of Our Lives' Kate (Lauren Koslow) will attempt to drug Abby (Marci Miller). However, Abby suspects that Kate is working with Gabi (Camila Banus). Abby will turn the tables on Kate and switch their drinks and Kate will be the one who passes out.
Will this prove that Kate and Gabi are in this together? Will Chad (Billy Flynn) realize that Kate has been helping to mess with his life? Will Stefan Tyler Christopher) handle Gabi and Kate before Chad gets the chance? Will Chad's Dimera side finally come out, and both Kate and Gabi face his wrath for costing him his wife and denying him his child?
Gabi is Alarmed by Chad's Plan to Help Abigail
Days of Our Lives' Chad will, unfortunately, confide in Gabi his plan to help Abby and she is alarmed by the lengths he is willing to go to for her. Chad will enlist Ben's (Robert Scott Wilson) help in choking Stefan out to save Abby.
Chad and Ben are not a likely couple, but Ben owes Chad after the money he gave him to leave town. It may take some persuasion, but Ben knows that Chad and Abby belong together and he loved her once, he would do anything to make up for the past.