Days of Our Lives Spoilers Thursday, October 11: Mimi Puts Her Foot Down – Nicole And Eric Make Love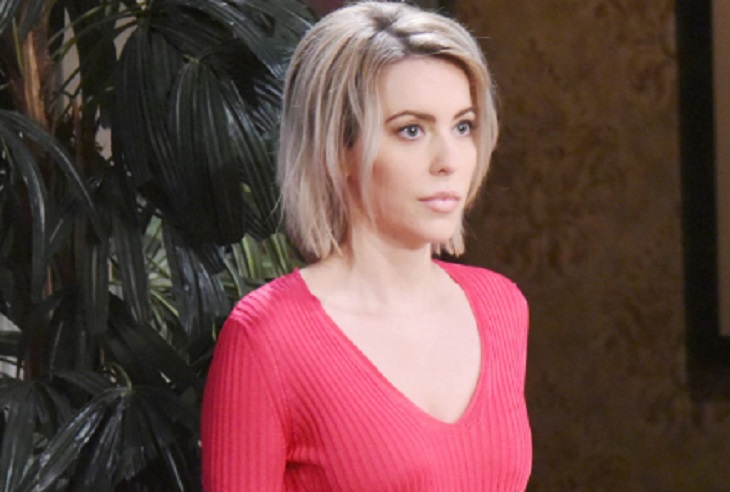 Days of Our Lives (DOOL) Spoilers for Thursday, October 11, 2018 reveals, Eric (Greg Vaughan) and Nicole (Arianne Zucker) are trying to find a way to get her out of her marriage to Xander (Paul Telfer). However, they get off track on their search and end up making love.
Nicole and Eric Make Love
Of course, this is a daring risk considering that Nicole has no idea of Xander's work schedule or even if he is at work. At times, true love must come first, and they begin to plot how to stay together. Will Nicole and Eric resort to murder to keep Nicole from going to prison?
Days of Our Lives' Brady (Eric Martsolf) has followed Kristen (Stacy Haiduk), and she goes to visit a mysterious patient. Is this patient E.J. (James Scott), Sami's (Alison Sweeney) love of her life? Will Brady get close enough to identify the patient or will it be that easy? Will Kristen discover that Brady is there before Brady figures out who she's visiting. What other secrets is Kristen hiding as well. Will Brady get enough evidence to take Kristen down before he's with her enough to fall back in love.
Lucas and Chloe Break the News to Kate about Baby Bonnie.
Days of Our Lives' Kate (Lauren Koslow) has no idea that she has a new granddaughter. However, the child is not from who she thinks. Yes, Chloe (Nadia Bjorlin) and Lucas (Bryan Dattilo) will break the news about Baby Bonnie. However, the baby belongs to Mimi (Farrah Fath) and Rex (Kyle Lowder) There is no indication that Kate knows about this child that Mimi had with Rex, nor does she know about Bonnie and Lucas. Will Kate be the one to figure out that Rex and Mimi are the baby's parents or will she believe it's Lucas' baby as well. Will Kate offer to help Lucas keep the baby away from Bonnie (Judy Evans).
Our deepest sympathy to the friends and family of Peggy McCay, our dear Caroline Brady for more than three decades. https://t.co/QVwV5Roth3

— Days of our Lives (@nbcdays) October 10, 2018
Mimi Decides She is no Longer Playing Bonnie's Game
After Days of Our Lives' Bonnie has let Lucas have the baby, Mimi needs to be back in control of the situation. Right now Mimi has no idea what is going on with her child. Lucas believes this baby is his and plans on filing for custody of the baby.
If Mimi does do something soon, Lucas will demand recognition as the legal father, and a huge court battle could happen if the truth doesn't come out. Mimi will have to take her chances and take her child back before she loses all rights to do so. Will Mimi take the change of going against Bonni?