Days of Our Lives Spoilers Tuesday, December 4: Leo's Damning Evidence, Stefan Needs Ben's Advice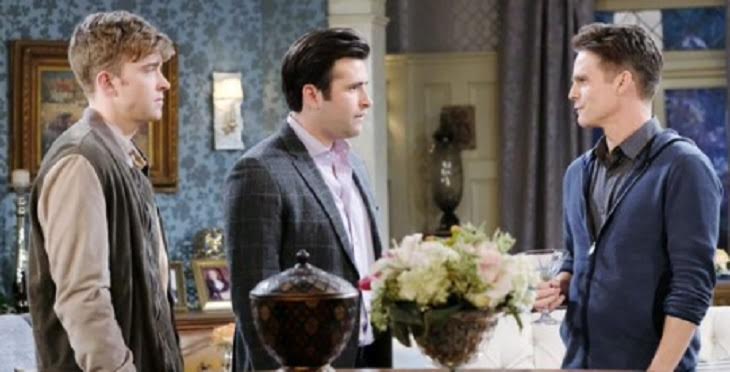 Days of Our Lives (DOOL) spoilers for Tuesday, December 4, 2018 reveals, Will (Chandler Massey) has talked Kate (Lauren Koslow) into coming clean on her involvement in the lawsuit against Titan.
Sonny Confronts Kate
Kate will come to the Kiriakis mansion to confess her part and Sonny (Freddie Smith) will tear into her accusing her of trying to ruin his life. Kate assumed Sonny was free game with Will dating Paul (ex-Christopher Sean) but has quickly learned the Will would support Sonny either way.
Will Chad See The Paternity Results?
Days of Our Lives' Chad (Billy Flynn) runs upon Gabi (Camila Banus) in the park with Charlotte's original DNA results, but will Chad see the results? Chad has already been somewhat suspicious of Gabi because of Abby's (Kate Mansi) accusation. However, Chad has taken Gabi's side up until this point. Gabi knows if Chad finds her with the paternity results he will realize Abby was right all along. Will Gabi hide the results before Chad sees them and how will see spin this story?
Someone's a little jealous. 😏 #DAYS pic.twitter.com/VOjYhglRfF

— Days of our Lives (@nbcdays) December 3, 2018
Stefan Asks Ben's Advice About Getting Abby Released
Days of Our Lives' Abby is trying to play Stefan (Tyler Christopher) to get out of Bayview and Stefan is confused about what to do. Ben (Robert Scott Wilson) has been in a mental institution before, and Ben has dated Abby. Stefan will ask Ben's opinion on Abby mental state and getting her released from Bayview.
Will Abby convince Stefan that she is Gabi or will Stefan feel bad about separating Abby from her kids and help her anyway? Stefan believes Charlotte is his daughter, does he want her separated from her mother? Does Stefan want to take the chance of losing "Gabby" (Kate Mansi) for good?
Leo Has Damning Evidence Against Will And Sonny
Days of Our Lives' Leo (Greg Rikaart) is determined to force Sonny to marry him and has damning evidence to use against them. Will Sonny and Will be separated by Leo's spiteful revenge plot? Will Victor come to the rescue and have Leo taken care of by some other means? Does Kate have enough on Leo to help take him down and save face with Victor as well?
Eli Suggests Hope Is Cheating On Rafe
Days of Our Lives' Rafe (Galen Gering) will confide in Eli (Lamon Archey) his worries about Hope (Kristian Alfonso) and her secret trips an phone calls. Eli will suggest that maybe Hope is having an affair as payback for Rafe's indiscretion with Sami. Hope claims to have accepted it and gotten past it, but Eli will suggest that this isn't the case at all.
Read more Celebrating the Soaps news, spoilers, and gossip on our Days Of Our Lives homepage