Days of Our Lives Spoilers Tuesday, November 27: Leo Makes Demands – Ted Needs Hope's Protection – Ben and Ciara Kiss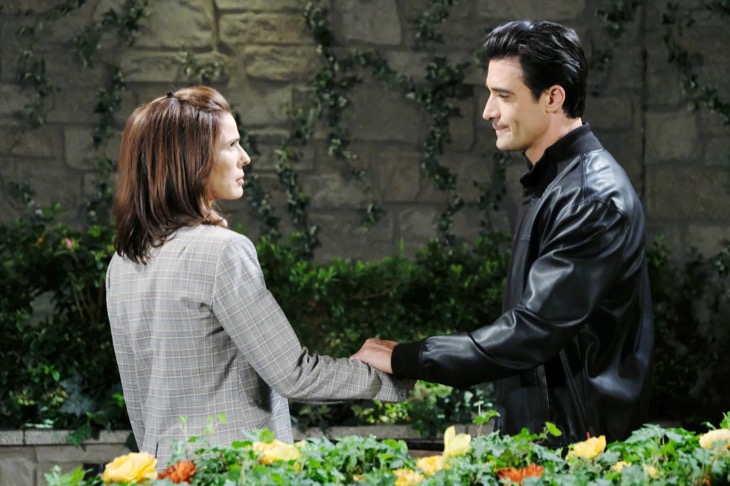 Days of Our Lives' (DOOL) spoilers for Tuesday, November 27, 2018, reveals Leo (Greg Rikaart) is back in Salem and demands that Sonny (Freddie Smith) go through with his offer to marry him.
DOOL Spoilers – Leo Demands Sonny Keep His Promise To Get Married
If Sonny doesn't comply, Leo will turn but Sonny and Will (Chander Massey) in for attempted murder. Will Sonny give in so he can protect Will? Will Victor (John Aniston) insist Sonny marry Leo to end the lawsuit and this threat as well. Will Sonny ask Victor for protection from Leo instead of letting this get more out of hand?
Days of Our Lives Spoilers – Kayla Accuses Stefan of Letting Steve Take The Fall For Him
Days of Our Lives' Kayla (Mary Beth Evans) will accuse Stefan (Tyler Christopher) of letting Steve (ex-Stephen Nichols) take the fall for his spying through Steve's bionic eye. Kayla feels responsible for Steve's imprisonment because she is the one who entered the deal with Stefan to get the bionic eye for Steve. Steve would never spy for another country or another group besides the ISA. However, Stefan would. Stefan knew who Steve worked for and is the most likely person to spy on anyone.
DOOL Spoilers – Ted Laurent Returns, Asking Hope For Protection
Days of Our Lives' Ted (Gilles Marini) returns to town, and Hope (Kristian Alfonso) agrees to protect him from Stefan in exchange for his help putting Ben (Robert Scott Wilson) away. Ted will agree to help Hope, but he doesn't want Rafe (Galin Gering) involved and will go as far as to make Rafe believe he and Hope are having an affair.
Rafe and Hope are just getting back on track after Sami's (Alison Sweeney) last trip to Salem. Will Hope and Ted's alliance lead to another breakup? How will Julie (Susan Seaforth Hayes) react to Hope's affair instead of Rafe straying, even if it is just for show?
Who else has been waiting for this moment? 🙌 #DAYS pic.twitter.com/sRKhXlC4vU

— Days of our Lives (@nbcdays) November 26, 2018
Tuesday, November 27 DOOL Spoilers – Ben and Ciara kiss
Days of Our Lives' Ben and Ciara (Victoria Konefal) give in to their feelings and kiss. Unfortunately, Rafe will witness this kiss and run to Hope with his knowledge. Little does Rafe know that he is playing into Ted's hands by sending Hope to work with him. Ted is certainly going to take advantage of this and Rafe will end up punching Ted when he finds him and Hope together Ben and Ciara are adults, but no one will let them be together. Will Ted be like Tripp and manufacture evidence against Ben as well? Will Hope fall for Ted's lies because she wants Ben put away so badly?
Read more Celebrating the Soaps news, spoilers, and gossip on our Days Of Our Lives homepage