Days of Our Lives Spoilers Wednesday, March 13: Brady Gets An Unpleasant Surprise – Diana Tries To Comfort John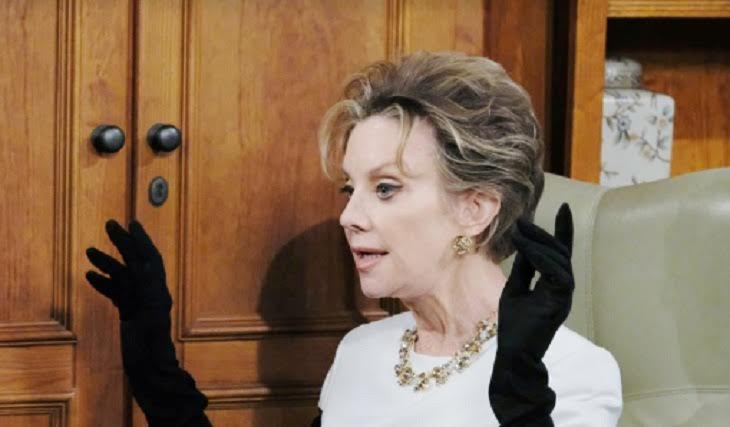 Days of Our Lives (DOOL) spoilers for Wednesday, March 13, 2019, reveal Diana (Judith Chapman) will rush to the hospital to comfort John (Drake Hogestyn) after learning that Marlena (Deidre Hall) is in the hospital.
Diana had hoped to kill Marlena with the penicillin she injected into her cookies. Diana's plan didn't work out to her satisfaction, but she believes she can pull John to her by comforting him. Will Diana attempt to kill Marlena again or cut her losses and put the blame on someone else?
Days of Our Lives J.J. (Casey Moss) rushes to Haley's (Thia Megia) side when he learns of her arrest and wants to help. Haley doesn't trust J.J. and blames him for the mess she is already in so she is not likely to want his help. However, J.J. wants to keep Haley in the country and could offer her a way to stay in Salem. Will J.J. suggest he and Haley marry to make her a citizen?
Days Of Our Lives – Who Told The Police Haley Was In The Loft?
Days of Our Lives Tripp (Lucas Adams) had promised Haley that she would be safe at the loft. Tripp knows that someone had to tell Eve (Kassie DePaiva) or the police where Haley was staying and only two people besides himself knew that information.
Tripp knows that either Claire or Ciara (Victoria Konefal) exposed Haley's location and Tripp questions Claire about it first. Ciara promised to keep quiet, and Tripp believed that she would, but Claire has made insinuations from the start. Will Claire admit to Tripp that she tipped off the cops and pretend it was for Tripp's protection?
This is what true love looks like. #DAYS pic.twitter.com/WQnzWg3Fuu

— Days of our Lives (@nbcdays) March 12, 2019
Days Of Our Lives – Leo Reveals To Brady That They Are Brothers
Days of Our Lives John has had other things on his mind and hasn't had time to tell Brady (Eric Martsolf) that Leo (Greg Rikaart) is his brother. Leo won't waste any time dropping this bomb on Brady as soon as he runs into him.
Brady probably doesn't believe Leo, at least at first, and will call John for confirmation. How will Brady handle the knowledge of having a new brother that no one warned him about having? Will Leo's new family accept him with open arms or will his past keep him from being accepted at all?
Read more Celebrating the Soaps news, spoilers, and gossip on our Days Of Our Lives homepage