Days Of Our Lives Spoilers: Wendy Tries To Prove That EJ Is After Ava
Days Of Our Lives spoilers indicate that Wendy Shin (Victoria Grace) will try to get the goods on EJ Dimera (Dan Feuerriegel). Can Wendy prove that EJ is the one who put a hit out on Ava Vitali (Tamara Braun)?
Days Of Our Lives Spoilers – EJ Dimera Wanted Revenge On Ava Vitali
Days of Our Lives Spoilers reveal that EJ wanted revenge on Ava for supposedly killing Susan Banks (Stacy Haiduk) in a car crash months ago.
Ava then tried to blow up the church where Susan's memorial was being held almost killing herself in the process. When EJ couldn't force Xander Cook (Paul Telfer) into doing this job, he put a hit out on Xander as well.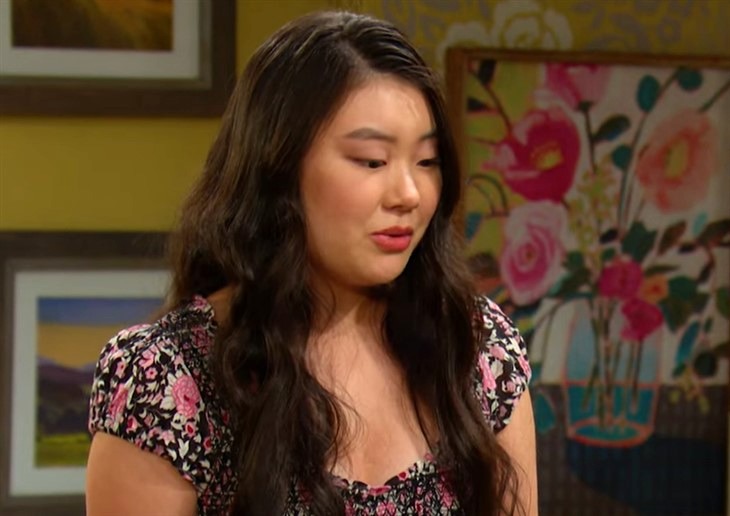 Unfortunately for EJ, Ava and Harris Michaels (Steve Burton) managed to subdue his hitwoman and almost killed her instead.
Now the police have her phone but cannot connect EJ to the text messages asking for updates. EJ's accomplice surely isn't going to talk.
However, everyone knows EJ wants revenge, it's just a matter of proving it.
DOOL Spoilers – EJ Dimera And Tripp Johnson's Clash
Recently, EJ had a run-in with Tripp over Ava. Tripp knows that EJ wants his mother dead. EJ makes no secret of that.
EJ doesn't even believe anything was wrong with Ava to cause her to go off the deep end before.
However, between Jake Dimera's (Brandon Barash) death and EJ taking Ava's shares, Ava completely lost it.
EJ believes that Susan was reaching out to him to encourage him to get rid of Ava. Instead, perhaps Susan was trying to tell EJ she is alive and needs him to save her.
EJ is never going to let this go and will likely have men chasing Ava and Harris right along with Rafe Hernandez (Galen Gering) only EJ wants his men to get there first.
READ THIS: Find out what happens next on Days Of Our Lives.
Days Of Our Lives Spoilers – Wendy Shn Is A Tech Geek And Works For Dimera
When Tripp learns about his mother taking off and someone trying to kill her, he will certainly suspect EJ.
Of course, Wendy will want to help Tripp get to the truth so she will decide to use her computer skills to try to prove the connection.
However, EJ and his assassin used burner phones. Can Wendy find evidence without giving herself away to EJ?
Wendy could certainly put her life in danger if EJ finds out the truth. Can Wendy get the evidence they need before EJ catches onto her?
Will Wendy even tell Tripp what she is up to before trying to find out what they need? Wendy may think she is helping Tripp but in reality, she could be putting both of them in grave danger. Will the truth ever come out?
Be sure to catch up on everything happening with DOOL right now. Come back here often for Days Of Our Lives spoilers, news, and updates.
For more about what's happening on your favorite soaps and more ways to connect with us, join the conversation on our Facebook Page, check out our Twitter feed, look for an update on our Instagram, follow us on Threads , Always stay up-to-date with us on Google News, or drop us an e-mail HERE! See you there!