Days Of Our Lives Spoilers: Will Gabi Do The Right Thing When She Hears Kate Has Been Drugged?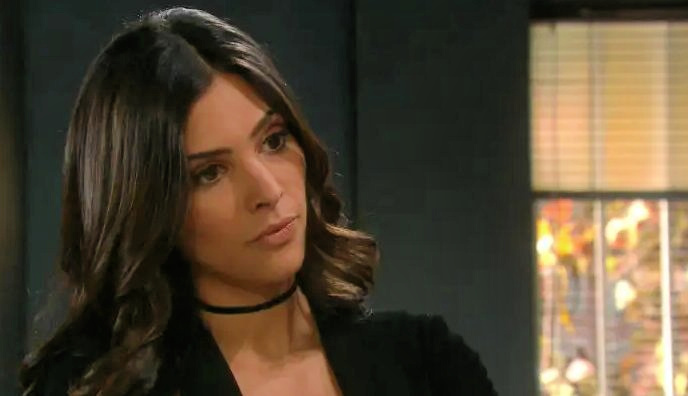 Days of Our Lives spoilers tease that Gabi Hernandez (Camila Banus) will be an invaluable witness in the case of Kate Roberts DiMera's (Lauren Koslow) drugging attack and attempted murder – but will she do the right thing and notify the police of what she saw?
Shortly after Kate's attack by Jordan Ridgeway (Chrishell Hartley), Gabi witnessed Jordan halfway dragging a nearly unconscious Kate through Salem Square; when questioned by Gabi as to what was wrong with Kate, Jordan said she came upon her passed out drunk and was helping her get home to sleep it off! Gabi offered her assistance, but of course, Jordan refused! Gabi had a very suspicious look on her face, however, and appeared to not quite be buying Jordan's story.
Other Days of Our Lives spoilers tease that Gabi's brother, Rafe Hernandez (Galen Gering) will be the one to discover Kate, near death, and get her to the hospital. With Kate unconscious, there will be questions as to what happened to her, and Gabi would be able to fill in the blanks.
Days Of Our Lives Spoilers: Did Jordan Make A Mistake By Not Destroying Kate's Cell Phone? #Days #DOOL #DaysOfOurLives https://t.co/ICOGN86TXy

— SOS/CTS/HH (@SoapOperaSpy) February 15, 2019
Undoubtedly blood tests will be taken to determine the cause of Kate's problems, and the substance that Jordan injected her with may be found and tied to Ciara Brady's (Victoria Konefal) case because of the two likely having been injected with the same substance. In addition, if Kate really did call the police or 911 when she was attacked, the police should already be investigating since they would have heard her cry out when Jordan stabbed her with the syringe.
Of course, there is a chance that the substance Jordan used is one that exits the body quickly with no trace; but Jordan is likely not trained well enough, as only a physical therapist, to know what to use. Chances are it is a muscle relaxer that a licensed physical therapist would be able to obtain easily, although it may have had to be through a prescriber such as an orthopedist or sports doctor. But then, Jordan's been gone for a while…she could have finished her schooling and have those prescribing credentials now.
Gabi may be hesitant to involve herself with police because of her own brushes with the law, but when she hears Kate was attacked, she may at least tell Rafe as her brother when she knows he's the one who found Kate. If Gabi does the right thing and tells what she saw, it will go a long way towards a redemption story for Gabi and by extension, possibly redemption for Ben Weston (Robert Scott Wilson) as well! Keep watching Days of Our Lives and checking Days of Our Lives spoilers frequently to see how this story plays out!
Read more Celebrating the Soaps news, spoilers, and gossip on our Days Of Our Lives homepage