Days Of Our Lives Spoilers Monday, February 18: Chad Proposes To Abby, Rafe Warns Ted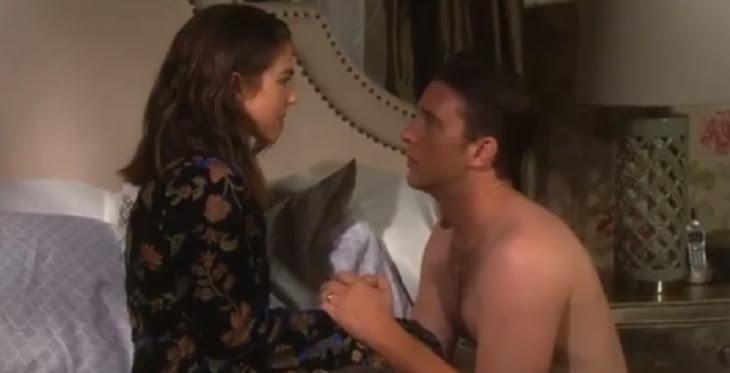 Days of Our Lives (DOOL) spoilers for Monday, February 18, 2019, reveals Chad (Billy Flynn) will propose to Abby (Kate Mansi) after their reunion.
Days of Our Lives Spoilers – Chad Proposes To Abby
Both Chad and Abby want their family back together and will decide not to waste any more time. Abby will accept Chad's proposal, and they will marry later in the week. What does this mean for Abby and Chad's life in Salem? What does it mean for Chad's future with Dimera since he offered to give it up for his family? Will Chad and Abby leave town and all the bad memories of Salem?
DOOL Spoilers – Ciara Tries To Save Ben
Days of Our Lives' Ciara (Victoria Konefal) will try to save Ben (Robert Scott Wilson) from Jordan (Chrishell Stause) as she attempts to kill him. Ben rescued Ciara from a fire that Jordan set to kill her. Ben was sitting with Ciara at the hospital when Jordan came in and attacked him. Ben is on the floor of Ciara's hospital room, and Jordan will try to finish him off. Will Ciara be able to return the favor and rescue Ben from his sister? Will Hope (Kristian Alfonso) and Rafe(Galen Gering) hear Ciara's cries for help and rush to her aid? Jordan has already almost killed two people, will she succeed this time?
Love is in the air for Chad and Abigail as they get ready to get married one more time. Watch Days of our Lives, weekdays on @NBC. pic.twitter.com/XlibR90G8D

— Days of our Lives (@nbcdays) February 15, 2019
Days of Our Lives Spoilers – Rafe Warns Ted To Stay Away From Hope
Days of Our Lives Rafe has noticed Ted's (Gilles Marini) attraction to Hope, and he doesn't like it. Ted lied to Rafe and told him he and Hope were having an affair at one time, so Rafe already doesn't trust Ted. It is unclear if Rafe witnessed the kiss that Ted gave Hope at the hospital, which Hope made it plain is not to happen again. However, Rafe certainly senses that something is up with Hope and Ted and he will warn Ted to stay away from his wife. Will Ted heed Rafe's warning or will he continue to try to come between them?
DOOL Spoilers – Sarah Rethinks Her Relationship With Rex
Days of Our Lives' Sarah (Linsey Godfrey) has seemed to question her relationship with Rex (Kyle Lowder) ever since her talk with Marlena (Deidre Hall) weeks ago. Sarah and Eric (Greg Vaughan) had strong feelings for each other, and neither has told the other how they feel.
Rex continues to throw Eric and Sarah in intimate situations causing both of them to feel uncomfortable. Sarah is also questioning her decision to be with Rex because she thinks he has already cheated on her again. Will Sarah confide her fears in Eric? Will Eric tell Sarah how he feels about her while they have a chance to talk alone?
Read more Celebrating the Soaps news, spoilers, and gossip on our Days Of Our Lives homepage