Days of Our Lives Weekly Spoilers for August 20 – 24: Sami's Epic Return, Marlena And John Wedding Shockers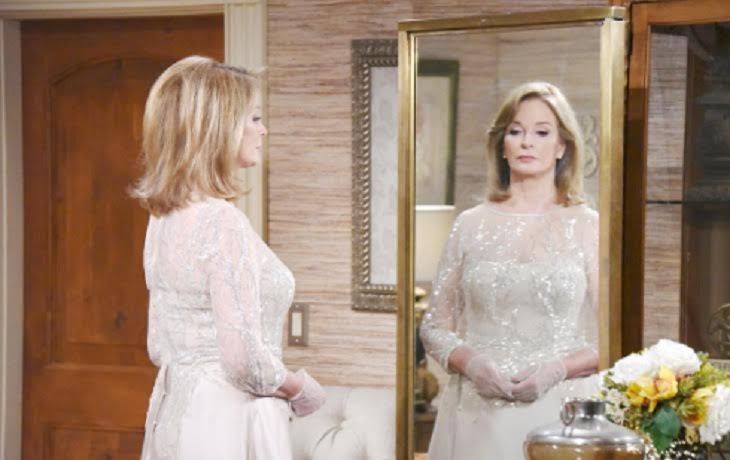 Days of Our Lives (DOOL) spoilers for the week of Monday, August 20 through Friday, August 24, 2018 reveal a lot of twists and confrontations will happen in Salem.
Will a beloved couple make it to the altar? DOOL sources indicate Adrienne Kiriakis (Judi Evans) will finally have the chance to confront Bonnie Lockhart. One has to wonder if Bonnie will ever pay for everything she has done to Adrienne and Lucas Horton (Bryan Dattilo).Wedding planning have been in full swing, but John Black's (Drake Hogestyn) bachelor party will bring problems that could destroy everything.
Fortunately by week's end, Dr. Marlena Evans (Deidre hall) and John's romantic wedding is set to happen, but it looks like Marlena had reason to worry when John spotted her in the wedding gown. What happens that will cause massive chaos on what was supposed to be a day solely about love?Days of Our Lives spoilers reveal Susan Banks (Stacy Haiduk) comes back to Salem, begging for forgiveness from Will Horton (Chandler Massey).
LOVE DAYS OF OUR LIVES? SIGN UP FOR OUR DOOL NEWSLETTER!
Will also has a breakthrough this week. Could it be Susan or his mother, Sami Brady DiMera's (Alison Sweeney) return that has something to do with it? Speaking of Sami's epic return, viewers will finally have answers on whether she is pregnant after her one night of sex with Rafe Hernandez (Galen Gering) back in December 2017.
If she is pregnant, you can be sure there will be nothing but drama between her and Rafe's fiance, Hope Williams (Kristian Alfonso)!DOOL alums Shawn D. Brady (Brandon Beemer) and Belle Black (Martha Madison) come back to town, both extremely confused and angry that their daughter, Claire (Olivia Rose Keegan) is sharing an apartment with serial killer, Ben Weston (Robert Scott Wilson).
Days of our Lives spoilers reveal this coming week is jam packed with exciting twists and turns; one viewers will not want to miss! Be sure to tune into NBC's Days of Our Lives (DOOL) on Monday, August 20, 2018 to catch up on everything happening in Salem right now. Check Celebrating the Soaps often for updates, news and spoilers!
Read more Celebrating the Soaps news, spoilers, and gossip on our Days Of Our Lives homepage