Days of Our Lives Weekly Spoilers January 7 To 11: Kayla Confronts Jack – New Love in the Air – Break Ups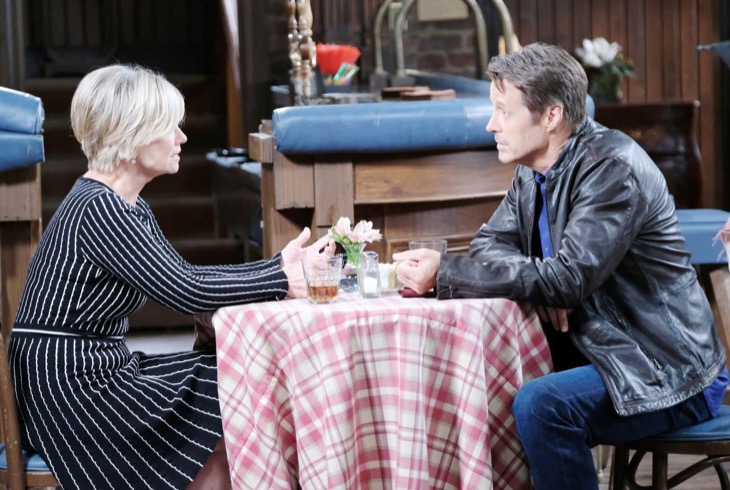 Days of Our Lives (DOOL) spoilers for the week of Monday, January 7 through Friday, January 11, 2019, reveal conflict, confrontations, breakups and is there new love arising? A local Salemite returns. DOOL fans will not want to miss out on this coming week of the NBC soap opera!
DOOL sources show Dr. Kayla Brady Johnson (Mary Beth Evans) finally gets her moment alone with Jack Deveraux (Matthew Ashford), since his mysterious return from the dead. Kayla shares some of the darkest secrets from his past, shocking the amnesiac. How will Jack react to learning the harm he caused his brother, Steve Johnson's (Stephen Nichols) wife?
As viewers of the daytime drama know, Rafe Hernandez (Galen Gering) couldn't get the handcuffs on Stefan DiMera (Tyler Christopher) quick enough as he is charged with espionage. Police Commissioner Hope Williams (Kristian Alfonso) begs attorney Ted Laurent (Gilles Marini) to take Stefan on as a client. Will the lawyer help Hope put the man away who has ruined so many lives?
Xander and Leo team up to take over, and Haley has a secret. Watch #DAYS, weekdays on NBC. pic.twitter.com/LGks6xugLY

— Days of our Lives (@nbcdays) January 4, 2019
Days of Our Lives spoilers reveal Leo Stark (Greg Rikaart) may be hooked up with Sonny Kiriakis (Freddie Smith), but things may be changing when he meets Xander Kiriakis (Paul Telfer) this coming week. He is immediately taken by the strikingly dark and dangerous nemesis, so what does this mean for Leo and Sonny's relationship?
Hope has been determined to split up her daughter, Ciara Brady (Victoria Konefal) and "redeemed" serial killer, Ben Weston (Robert Scott Wilson) from the moment they laid eyes on each other; DOOL sources tease that she will finally get her wish as Ciara and Ben end their relationship after the truth about his involvement in the kidnapping of Gabi Hernandez (Camila Banus) is revealed.
Eric Brady (Greg Vaughn) and Sarah Horton (Linsey Godfrey) seem to be on the right track when it comes to romance, but everything comes to a halt when her former fiance and Eric's brother, Rex Brady (Kyle Lowder) returns to Salem at the end of this week. Does this spell the end of Eric and Sarah, or is she done with the lying and cheating Rex?
DOOL's JJ Deveraux (Casey Moss) finds out that Haley Chen (Thia Megia) has a strange and secretive reason for being in Salem. Who is she connected to?
Be sure to tune into NBC's Days of Our Lives (DOOL) on Monday, January 7, 2019, to catch up on all these exciting stories happening right now in Salem. Check Celebrating the Soaps often for updates, news, rumors, and spoilers!