Days Of Our Lives' Spoilers Monday, January 7: Abby Gives Ciara Advice, Victor Gets A Surprise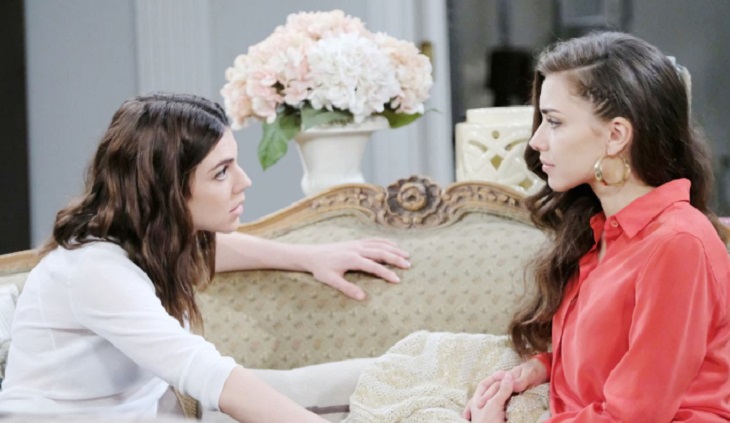 Days of Our Lives' (DOOL) spoilers for Monday, January 7, 2019, reveals Jack (Matthew Ashford) hasn't seen Kayla (Mary Beth Evans) since his return to Salem.
DOOL Spoilers – Jack Runs Into Kayla
Jack has no memory of his past either which means he doesn't remember raping Kayla years ago. Jack is said to discover a dark moment, will he have a memory of raping Kayla or will Kayla tell him about it herself.
Eve (Kassie DePaiva) hasn't warned him that would be facing a woman he assaulted. How will Jack handle realizing he is a rapist? Who will Jack turn to for the truth about this incident?
Days of Our Lives – Chad Takes Over Dimera
Days of Our Lives' Chad (Billy Flynn) will take over the helm of Dimera Enterprises while Stefan (Tyler Christopher) is in jail for treason. Can Chad manage to keep control when Stefan is released? What will happen to Ben (Robert Scott Wilson) since Stefan is the one who hired him?
Chad was fine working with Ben to kidnap Abby (Kate Mansi), but now that he doesn't need his help, Chad treats Ben like a pariah. Chad has also vowed to win Abby back, and she is scared to death of Ben after he tried to kill her. Will Chad be the reason Ben is back on the street?
Ciara Seeks Abby's Advice About Ben On DOOL
After Days of Our Lives' Hope (Kristian Alfonso) interrupted Ben and Ciara (Victoria Konefal's) evening to inform her of his involvement in Gabi (Camila Banus) kidnapping, Ciara turns to Abby for advice. Abby is biased against Ben for a good reason, will her advice push Ciara into breaking up with Ben?
Days of Our Lives Spoilers Monday, January 7: Xander Seeks Deal With Victor – Jack Faces Dark Bombshell – Eve's Next Step https://t.co/rZCxxquA0W pic.twitter.com/dlrla96xWL

— Soap Opera Spy (@SoapOperaSpy) January 4, 2019
Eventually, Ciara will decide to leave town after breaking up with Ben, will she give him a second chance after she returns? Will Hope ever back of and allow Ben and Ciara to be a couple?
Days of Our Lives Spoilers – Xander Brings Victor A Gift
Days of Our Lives' Xander (Paul Telfer) wants to get back in Victor's (John Aniston) good graces, and nothing has worked so far. Xander will bring Victor an expensive gift to try to sway Victor's opinion of him.
Does Xander hope to take over Titan since Victor has fired Chad? Sonny (Freddie Smith) is still a risk even though he married Leo (Greg Rikaart) and Brady (Eric Martsolf) wants nothing to do with that company. Will Victor give in and allow Xander to run the company or will Victor be more inclined to run Xander out of town?