General Hospital Spoilers: Drew Alerts Carly To Ned's Plans — How Will They Skirt The SEC?
General Hospital spoilers suggest Drew Cain (Cameron Mathison) and Carly Spencer (Laura Wright) are headed for trouble as Ned Quartermaine (Wally Kurth) stirs the pot and makes it clear he intends to report them for insider trading. When Drew shares this unexpected news with Carly, it's going to leave her head spinning. Both of them have enjoyed this time they've spent flying under the radar as a couple, but they have also agreed it's time to take things out into the open.
However, Drew was so certain that doing this would get Ned to back off. When just the opposite occurs, he's going to feel blindsided, and Carly could blame Drew on some level for being overly confident. Moreover, Drew and Carly are going to need a rather quick plan in place if they have any hope of dodging the SEC and federal charges.
General Hospital Spoilers — Ned Quartermaine Warns Drew Cain That Time is Ticking
When Drew extends an olive branch hoping to buy some time with Ned, he's not going to hear of it. Ned is bent on seeing to it that he right how wronged he feels. He wants to see Drew and Michael Corinthos (Chad Duell) pay for what they've done. Drew is going to be floored when Michael becomes a part of Ned's retaliation tactics, too. After all, it is his mother who is involved
.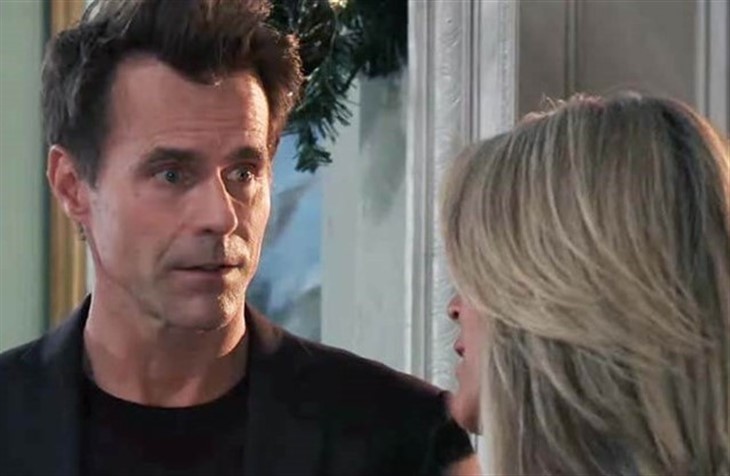 GH Spoilers – Hint Wedding Bells Are Ringing
Drew and Carly will have to think fast about how they're going to cover this up and have each others' backs. On one hand, Carly has already paid a pretty steep price for her insider trading adventure with Drew, but Ned doesn't see it that way. His wife, Olivia Quartermaine (Lisa LoCicero), might try to talk some sense into him, but he won't be thrilled with her approach because she's known about Carly and Drew being a couple all along and kept it from him. Could it be Olivia that gives Drew and Carly the idea to get hitched so that they won't be compelled to testify against one another?
General Hospital Spoilers — What About Michael Corinthos?
Although marrying Carly would certainly give Drew some protection, it won't shield Michael from anything. Carly is his mother and there is no law that protects mother and son from having to testify against one another. If the SEC decides to turn their sights toward Michael as a means of getting Drew and Carly to confess, it just might work. Drew is too honorable of a guy to let Michael take the fall for him. Carly… that's questionable. Some say she would do anything for her kids, but we'll see. Stay tuned for more GH news and spoilers just ahead.