General Hospital Spoilers: Explosive Promo – Courtroom Drama, Secret Meetings, Urgent Warnings!
General Hospital spoilers and updates for the week of Monday, August 28-Friday, September 1 tease courtroom drama, secret meetings and urgent warnings!
Maxie Jones (Kirsten Storms) gives the Deception team a pep talk in the courtroom, Sonny Corinthos (Maurice Benard) has a secret meeting and Dex Heller (Evan Hofer) receives an urgent warning!
General Hospital Spoilers: Courtroom Drama
Courtroom drama ensues this week as Maxie is shown encouraging her teammates at the courthouse ahead of the looming lawsuit over "The Deceptor" idea being stolen.
She tells a nervous Brook Lynn Quartermaine (Amanda Setton) and Lucy Coe (Lynn Herring) it's all going to be okay, but the looks on their faces say they don't believe her.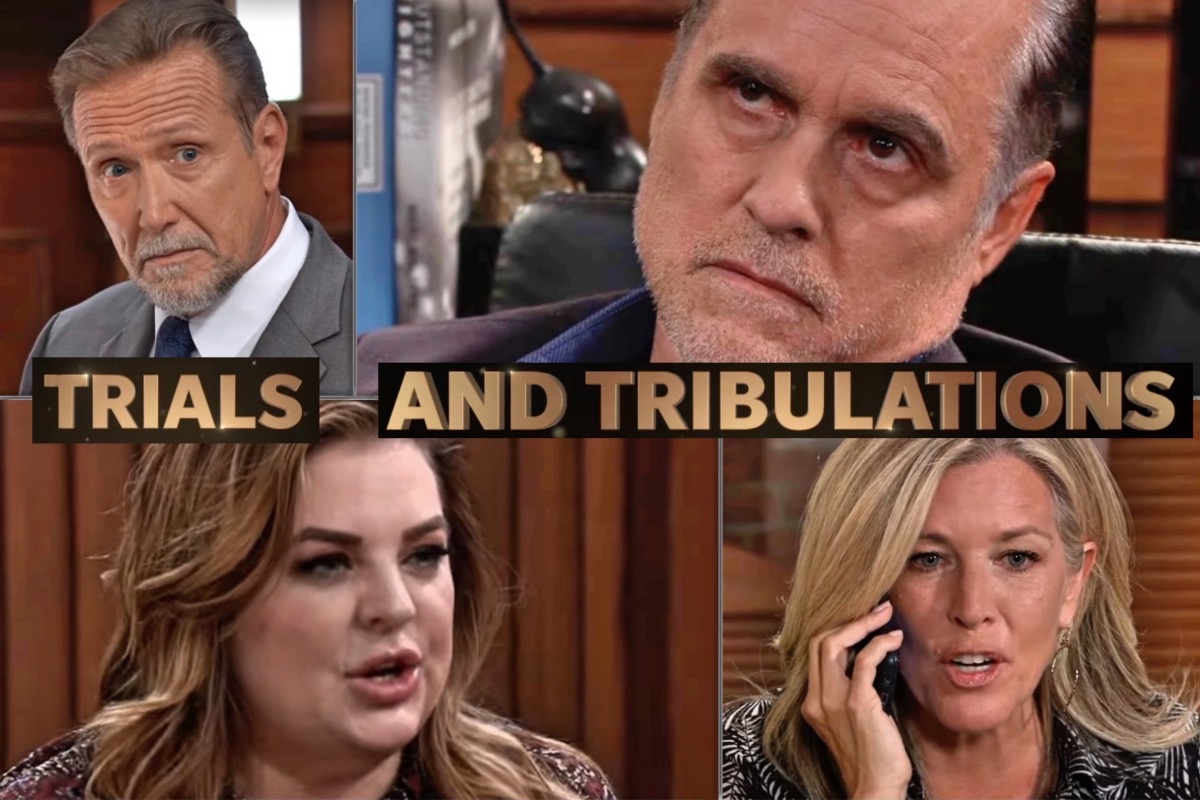 She says it's a golden opportunity to smoke out the mastermind behind this and shut them down for good, but then there's a distraction and their conversation is interrupted.
Just then, all three women wheel around at the sight of the opposing counsel who's entered the courtroom and taken his place. Lucy is blindsided to see that it's Jackson Montgomery (Walt Willey) from Pine Valley.
GH Spoilers: Secret Meetings
Meanwhile, at Sonny's office, he's having a secret meeting with Brick (Stephen A. Smith) as they are brainstorming. They are still trying to figure out if the person behind the Metro Court shooting is the same person behind the person who shot at Sonny in the warehouse previously.
The warehouse sniper was killed, but they could never find out who he was or who he worked for. Brick speculates to Sonny whether someone is trying to get rid of him and get the money for themselves, obviously referring to Sonny's money, meaning an inside job.
READ THIS: General Hospital Spoilers: Nina's Money for Gladys – Buys Sasha's Release, But There's a Sonny Problem
The sniper is still out there, with no clues as to an identity other than they either had access to the WSB arsenal-which a Pikeman shooter would-or if someone's gone rogue.
General Hospital Spoilers: Urgent Warnings
Carly Spencer (Laura Wright) is shown behind the bar at Kelly's, calling someone with an urgent warning-they have to get out of there, now!
It looks like she overheard someone plotting and is on the phone to Dex, who's in serious danger-he's been following Dr. Austin Gatlin-Holt (Roger Howarth) but then Sonny changed gears.
Now Dex's assignment is to follow Valentin Cassadine (James Patrick Stuart) because of his connections with Pikeman and worries over him turning on Anna Devane (Finola Hughes).
Dex is then shown running up a flight of stairs, and it looks like it could be at a warehouse or possibly on the pier. The staircase is surrounded by corrugated metal and he's hustling to get himself to safety.
Be sure to catch up on everything happening with GH right now. Come back here often for General Hospital spoilers, news, and updates.