General Hospital Spoilers: Friday, December 7: Obrecht Conflicted – Alexis Meets Daisy – Mike Romances Yvonne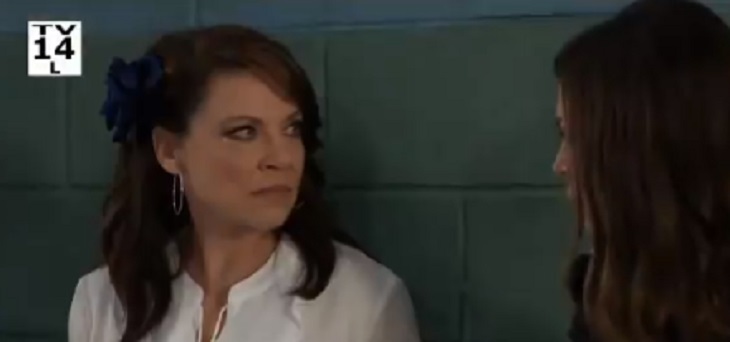 General Hospital spoilers for Friday, December 7, tease that Anna (Finola Hughes) will continue to work on Obrecht (Kathleen Gati) to convince her to come back to the US and save Britt (Kelly Thiebaud) from the deadly Tiber Pox. Anna and Finn (Michael Easton) will do their best to persuade Obrecht to surrender herself. "You want to save your daughter's life, or don't you?" Anna will implore.
Meanwhile, Curtis (Donnell Turner) and Sam (Kelly Monaco) will continue their conversation about the Leland Powell obituary that Sam received in the mail. Sam just called small-town Illinois to get some intel on who in Port Charles has a subscription to the newspaper that Leland's obituary appeared in. It looks like her mission will be a success, as Curtis says, "Never underestimate how trusting some people can be."
Next, on the new GH episode on Friday, December 7, Alexis (Nancy Lee Grahn) will sit down with Kristina (Lexi Ainsworth) at Charlie's Pub. Kristina will share what she's been up to lately, including the fun things she's been doing with her new friends. "I really look forward to meeting any of these new friends of yours," Alexis will say as Daisy (Kelsey Wang) walks into the pub.
At the hospital, Oscar (Garren Stitt) will be recovering when he's approached by his mom. Kim (Tamara Braun) has been doing a pretty good job of keeping her distance and giving Oscar the space he needs. On Friday's episode, she'll finally approach Oscar with something on her mind and she'll tell Oscar that she needs to say something to him. What could it be?
General Hospital Spoilers: Ryan Slips Up; Sam Has A Secret https://t.co/u0HEAsZEwC pic.twitter.com/yXenAcec9A

— Soap Opera Spy (@SoapOperaSpy) December 6, 2018
Meanwhile, at the memory care center, Mike (Max Gail) will be carrying a bouquet of roses – obviously a present for someone. Sonny (Maurice Benard), Carly (Laura Wright), and Stella (Vernee Watson) will notice the beautiful bouquet, and it looks like Stella will mistakenly assume that the flowers are for her. But Mike will be planning on giving the bouquet to his new lady friend Yvonne (Janet Hubert).
Finally, on Friday, December 7, Margaux (Elizabeth Hendrickson) will have a chat with Jason (Steve Burton). It's no secret that Margaux would like to use Jason to get to Sonny, so Jason will have his guard up. But it looks like Margaux will play coy. "Why would I investigate you?" she'll say.
It looks like we're in for a great episode on Friday! Stay tuned to the ABC soap and don't forget to check Celebrating The Soaps often for the latest General Hospital spoilers, updates, and news.