General Hospital Spoilers: Thursday, December 6 – Sam Helps Alexis – Anna Encounters Obrecht – Ryan Threatens Laura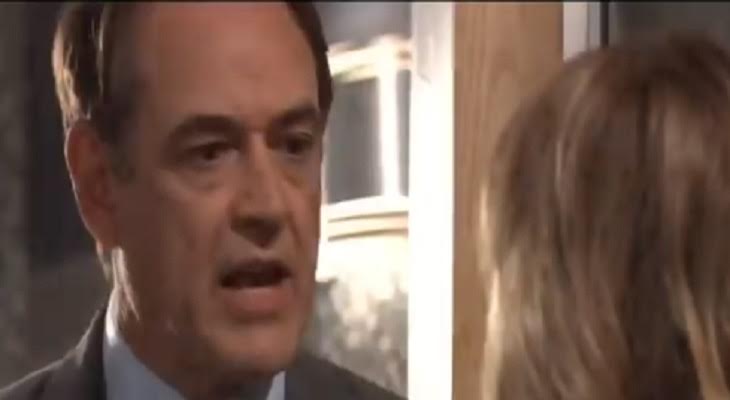 General Hospital spoilers for Thursday, December 6, tease that Michael (Chad Duell) and Willow (Katelyn MacMullen) will catch up at GH after their bereavement group. Willow will have a favor to ask of Michael, who will be all too happy to help her out. But what could Willow need from Michael?
Meanwhile, Curtis (Donnell Turner) and Jordan (Briana Nicole Henry) will spend some quality time together. The two never got a honeymoon, thanks to Kiki's (Hayley Erin) murder, so it's good to see them spend a little time with each other. It looks like the topic of the murder investigation will come up, specifically Griffin's (Matt Cohen) status as a suspect, and how the evidence just seems too perfect and nicely packaged to be real.
Next, on the new GH episode on Thursday, December 6, Sam (Kelly Monaco) and Alexis (Nancy Lee Grahn) will catch up over coffee. "I have something that could prove he's innocent," Sam will say. Could she be referring to Griffin? What might she have that would demonstrate his innocence?
Has Chase found a lead in the search for Kiki's murderer, West Coast? Griffin's life depends on it. #GH is brand-new and STARTS NOW on ABC! #GH55 pic.twitter.com/R57LcVqEgr

— General Hospital (@GeneralHospital) December 5, 2018
Speaking of Griffin, he'll have another exchange with Chase (Josh Swickard). Griffin is frustrated because there's someone out there who killed Kiki, and he feels that the police are wasting precious time in focusing on him as their number one suspect. Will Chase let on that there may be a connection between Kiki's and Mary Pat's (Patricia Bethune) murder?
Meanwhile Anna (Finola Hughes) and Finn (Michael Easton) will have quick success in tracking down Obrecht (Kathleen Gati) in Havana. They'll corner Obrecht and Anna will greet the criminal mastermind with a warm smile. But will they be able to contain her?
Finally, on Thursday, December 6, Laura (Genie Francis) will again confront Ryan (Jon Lindstrom) about his recent behavior. Laura's still angry from seeing "Kevin" kissing Ava (Maura West) and she won't be able to help herself from starting another argument with him. But Ryan won't be in the mood for her drama and he'll angrily threaten her. Laura will be stunned, and she'll likely grow even more convinced that this just isn't the Kevin she fell in love with.
It sounds like we're in for a great episode on Thursday! Stay tuned to the ABC soap and don't forget to check Celebrating The Soaps often for the latest General Hospital spoilers, updates, and news.