General Hospital Spoilers Friday, May 19: Joss Needs Sonny, Gladys Butts In, Dante Surprised, Sasha Confident
General Hospital spoilers for Friday, May 19, 2023, reveals Marcus Taggert (Réal Andrews) offers Portia Robinson (Brook Kerr) more advice. Michael Corinthos (Chad Duell) brings Dante Falconeri (Dominic Zamprogna) up to speed. Josslyn 'Joss' Jacks (Eden McCoy) asks a favor from Sonny Corinthos (Maurice Benard).
Sasha Gilmore Corbin (Sofia Mattson) is there for Nina Reeves (Cynthia Watros). Scott Baldwin (Kin Shriner) links up with Cody Bell (Josh Kelly). Gladys Corbin (Bonnie Burroughs) butts in. Curtis Ashford (Donnell Turner) and Jordan Ashford (Tanisha Harper) dance around the truth.
General Hospital Spoilers – Friday, May 19, 2023: Marcus Taggert Preaches to Portia Robinson
Portia is still bent on making sure Trina Robinson (Tabyana Ali) doesn't get caught up with Spencer Cassadine (Nicholas Chavez), but it's far too late for that. Trina is falling in love, and Portia feels powerless to stop it. Is it really her place to? Marcus doesn't think it's wise to try.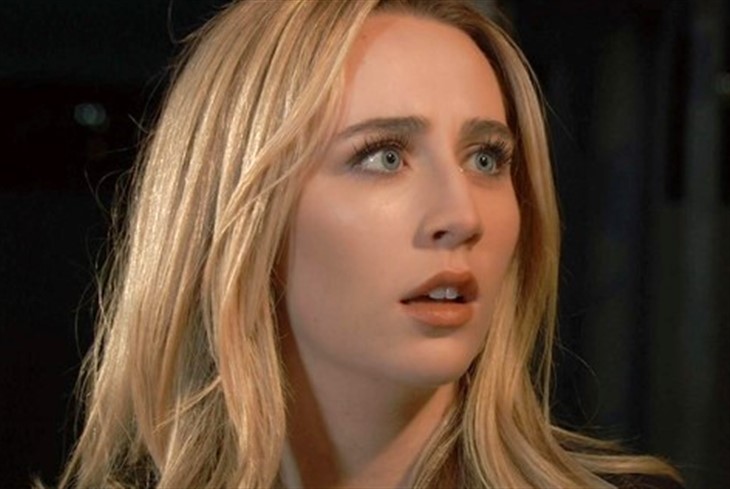 General Hospital – Spoilers Say Michael Corinthos Briefs Dante Falconeri
Michael lets his brother know he's back on semi-solid ground with their father, but Dante can't help but wonder if Michael is only doing this for Willow Corinthos' (Katelyn MacMullen) benefit? What does Michael actually want for himself?
GH Spoilers — Joss Jacks Has A Request For Her Former Stepdad
Joss is hopeful that Sonny will hear her out when she shows up asking for favors, but it may not be that easy. If she wants Sonny to let
Dex Heller (Evan Hofer) out of the mob unscathed, Sonny might have a good laugh at her expense. Besides, why isn't Dex there asking for himself if that's what he wants?
General Hospital – Spoilers Hint Nina Reeves Leans On Sasha Gilmore Corbin
Sasha is a supportive friend for Nina right now, who fears she is going to lose her daughter no matter the outcome of the bone marrow transplant. If Willow Corinthos (Katelyn MacMullen) ever learns that Nina was behind the attempt to throw Carly Spencer (Laura Wright) behind bars, she'll never speak to her again.
GH Spoilers — Scott Balwin And Cody Bell Reconvene
If Scott is going to represent Cody in his case against the WSB, he's going to need to know everything. Is Cody really willing to go there for this necklace? Is his goal still chasing the fortune he's not truly entitled to? Hasn't his entanglement with Britt Westbourne (Kelly Thiebaud) and the regret he has over lying to Mac Scorpio (John York) taught him anything?
General Hospital – Spoilers Leak Gladys Corbin Bursts Into Pozzulo's
Gladys is eager to clear up her problems with Selina Wu (Lydia Look), and that might mean cozying up to her cousin, Sonny. Is she going to fulfill Selina's wishes and spy on her own family, or is she ready to roll over on Selina and pray Sonny will bail her out?
General Hospital Spoilers — May 19 — Jordan Ashford And Curtis Ashford, Take Two?
When Curtis suggests he and Jordan leave the bar — together — it's going to be about more than just a walk down memory lane. Is he alright? Will she care at that moment?
Which storyline are you most looking forward to following on GH on Friday, May 19th? Let us know, and keep checking back for more General Hospital news and spoilers.