General Hospital Spoilers: Sonny Cuts Ties with Nina — And Michael
General Hospital spoilers tease that Sonny Corinthos (Maurice Benard) will not tolerate disloyalty from anyone. Whether they are close friends or distant acquaintances, traitors and backstabbers alike are not welcome in his world. Sonny has been pushed to his limit, and he simply cannot deal with rats anymore.
Still, while his stance on loyalty may seem black and white, the reality is a bit more complicated. For example, when Sonny was presumed dead, Nina Reeves (Cynthia Watros) kept this a secret from his loved ones for her own benefit, causing that gray area in Sonny's perspective to boil over as he dealt with her behavior. Michael Corinthos (Chad Duell) has now cleared the air with his father and wants to make amends, but when Sonny learns the truth — that both Michael and Nina have betrayed him — all hell is going to break loose.
General Hospital Spoilers — Sonny Corinthos And Nina Reeves Are On Thin Ice
Sonny's transformation has been significant in both personal and physical ways. Nina's version of Sonny, once known as "Mike," was created to satisfy her desires. Although she's not completely void of reality and knows she's in a relationship with a mobster, she still hangs onto the idea of Mike as the man she's in love with.
So when complications from his true self start bubbling to the surface, it will become rather obvious that Nina is cut out to handle them. Add the pressure of trying to measure up to Carly Spencer (Laura Wright) in Sonny's eyes, and it's a recipe for disaster. In other words, General Hospital spoilers show this couple's relationship is already on thin ice, even if neither of them is aware of it yet.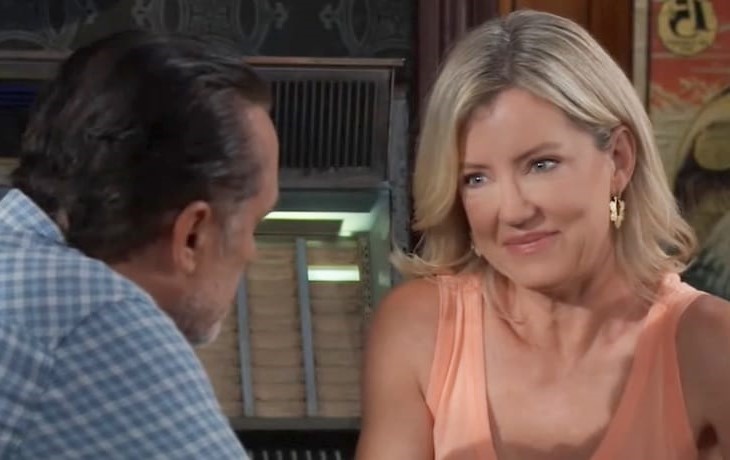 GH Spoilers – Tease Nina Reeves Is On Her Way Out
When the truth is exposed and Sonny knows Nina tried to send Carly to prison, he's not going to hold back on making her pay. She turned Carly and Drew Cain (Cameron Mathison) over to the SEC, and now Sonny will be at odds with her. How can this relationship possibly work out when Sonny is aware of the lengths Nina has gone to that would serve to harm his family? Sure, her intention wasn't to hurt his children, but that's still a side effect of her grand plan, and she can't pretend she didn't know it. But it doesn't stop there.
General Hospital Spoilers — Michael Corinthos Is On His Way Out, Too
Word has it that Sonny will soon learn about Michael's secret intentions, and he's not going to be happy about it. Despite Michael being his own flesh and blood, Sonny may not show him any special treatment. He's been crossed for the last time, and it seems that nothing will calm his rage this time around. Is Sonny going to seek his own form of justice for Nina and Michael, and if so, what does that mean for Willow Corinthos (Katelyn MacMullen) as her mother and husband go down in flames? Keep checking back with us for more GH news and spoilers just ahead.